Chemistry
Research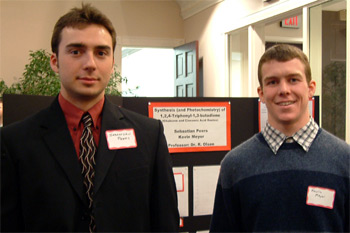 MANY CHEMISTRY MAJORS WORK WITH FACULTY ON RESEARCH PROJECTS during the academic year (Chemistry 487 or 488) or in the summer as part of the summer research intern program. The summer program provides for eight weeks of full-time research with a chemistry faculty person. Summer interns are paid a stipend and housing is provided by the College. Typically about a dozen students work with us each year. There are currently a number of additional research opportunities for students thanks to NSF Funding: Research & Learning, Retention Research.
Students often travel to conduct or present their research. Laura Wysocki has active collaborations at Janelia Farm Research Center, and Wally Novak often does xray crystallography at Argonne National Laboratory. Students often present at national meetings such as the American Chemical Society meeting, the Biophysical Society meeting and the Experimental Biology meeting.
---
Read more about Wabash student-faculty collaborative research:
Seth Bawel '12, Shane Evans '12, and Professor Ann Taylor.
Mike Lu '12, Xingcheng Liu '10, and Professor Scott Feller.
Professor Wally Novak's Student Research
Professor Laura Wysocki Takes on Research with Freshman
Professor Lon Porter's Research page.
Students often participate in research programs off campus. For example, Ivan Koutsopatriy did summer research with Tom Roberts at the Dana Farber Cancer Institute at Harvard, Corbin West worked at Perfinity Biosciences, a start up biotech comapny and Adam Boehm did biochemistry research at PROFUSA and UCSF.