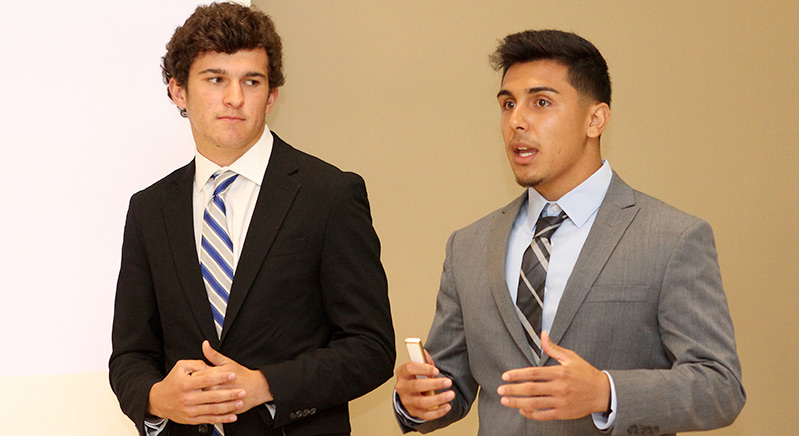 Why minor in business?
Wabash's business minor allows students to focus a course of study and co-curricular experiences on the different practices, skills, and issues involved in jobs for business degrees in both the for-profit and not-for-profit sectors. Successful and driven faculty offer a series of courses designed to develop the skillsets required for success in business. The minor includes analytical courses in economics and financial economics, accounting courses, and communication courses in English and rhetoric. Two unique elements of the business minor reflect Wabash's strong liberal arts tradition. A philosophy course asks students to think more deeply about the role of commerce, markets, wealth, social and economic rights, and labor in society. In the capstone course, students write a reflective paper in which they draw on their course work and their co-curricular and work experiences to reflect on issues relating to business's role in modern society. For a complete business course catalog, check out the curriculum.
In addition to the minor, Wabash offers enrichment in entrepreneurial knowledge and business skills through the WabashX Center for Innovation, Business, and Entrepreneurship program.
The business minor is administered by the Business Minor Steering Committee. For more information related to the program, please reach out to the committee chairperson.
---
Requirements for the Minor
Course Number
Course Title
Credits
ECO-101
Principles of Economics
1
RHE-101
Public Speaking
1

ENG-411

or ENG-302

or ENG-410

Bus & Tech Writing

Writing in the Community: Grants/NonProf

Academic & Professional Writing

1
ACC-201
Financial Accounting
1

ACC-202

or ACC-301

Management Accounting

Intermediate Accounting I

1
ECO-251
Economic Approach With Excel
0.5

ECO-262

or ECO-361

or ECO-362

Financial Markets and Institutions

Corporate Finance

Money and Banking

1
PHI-218
Philosophy of Commerce
1
BUS-400
Senior Capstone
0
Total Credits
7.5
Visit our business course requirements page for more detailed descriptions.