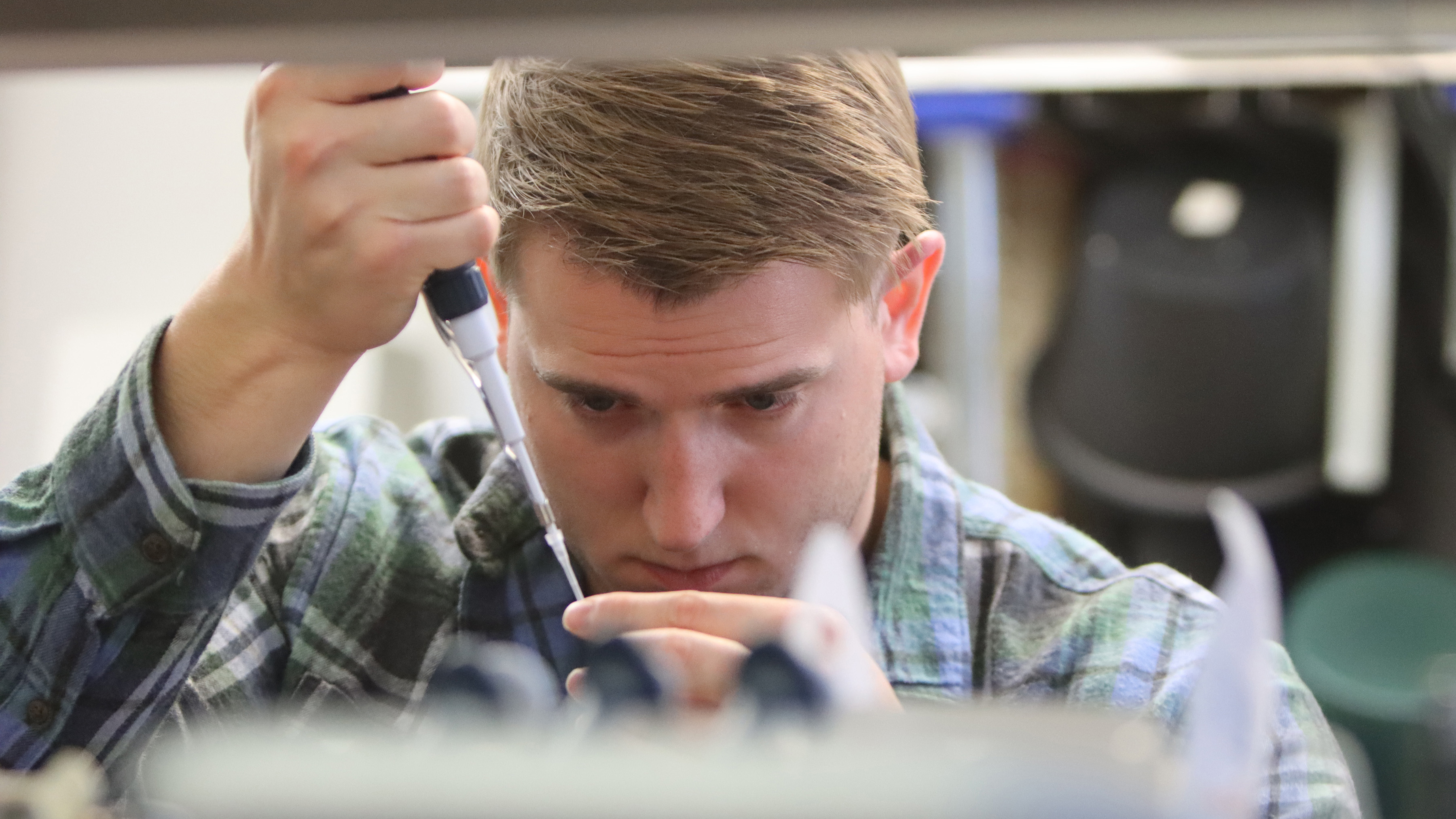 What is biochemistry?
Biochemistry is the study of the chemical processes of living systems and the molecular basis for changes that occur in living cells. As significant overlap in bio and chem processes have emerged over the last 50 years, biochemistry has developed into a field distinct from chemistry and biology, still grounded in fundamental concepts from these fields. It encompasses medical, agricultural, and environmental issues, making it an attractive area of study for students. It focuses on the structures and functions of proteins, carbohydrates, lipids, nucleic acids, and other biomolecules, energy acquisition and use in cells and organisms, communication within and between cells, and regulation of these processes.
The Wabash biochemistry major is based in the chemistry department, with substantial supporting work done in the biology department. Our cross-disciplinary and engaged faculty prepare students for pre-health professions, graduate studies, or employment in biochemistry careers. Our biochemistry classes feature small group work, and students use modern research equipment in the biochemistry laboratory. In addition, The annual Haines Lecture in Biochemistry features seminars and classroom visits by nationally recognized biochemists. For biochemistry courses specific to the major, check out our curriculum.
What can you do with a biochemistry degree?
Three-fourths of our majors go directly to graduate school or medical school after Wabash. Others have chosen to attend other professional schools (physiology, law, business). For those that choose to enter industry, there are many jobs for biochemistry majors; here's a list of recent graduates who have done just that:
Robert G. Roeder '64, Ph.D. is Arnold and Mabel Beckman Professor and Head of the Laboratory of Biochemistry and Molecular Biology at The Rockefeller University. He is a member of the prestigious National Academy of Sciences.
Tom Roberts '70, MD, Ph.D. is Professor of Pathology at The Dana-Farber Cancer Institute at the Harvard Medical School.
Barney Crum '92 is a Group Marketing Manager at Roche Diagnostics
Jonathon Allen '00, MD from Indiana University, won a 2002 AMA Foundation Leadership Award and now practices Emergency Medicine in Lawrenceville, GA.
Joe Trebley '01, Ph.D. is currently President/CEO/Founder-Monon Bioventures, Llc
Jonathan O'Donnell '10 is an MD and Internal Medicine resident at Duke University Medical Center.