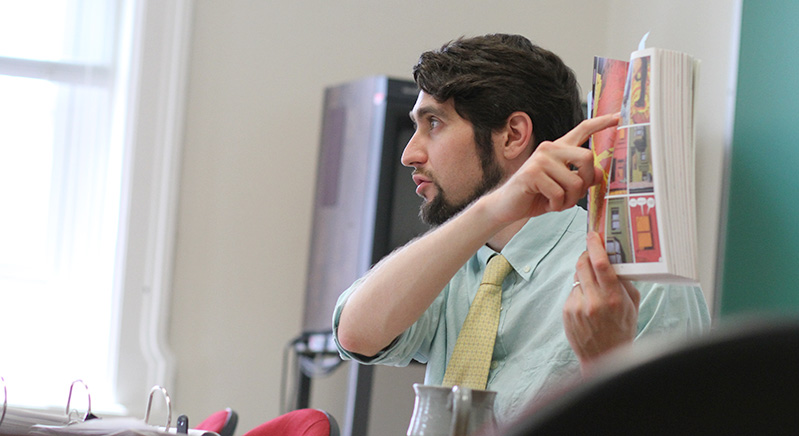 Why study English?
The Wabash English department has a broad and diverse curriculum designed to prepare students for a range of academic and professional careers — law, teaching, business, the arts, and communications — as well as for the pleasures of life-long learning. Majors may choose from two tracks — literature or creative writing. Literature English classes cover a range of literary periods and approaches and introduce canonical and non-canonical texts. Creative writing English classes introduce students to the major genres through small and intensive workshops. For specific English course offerings, check out our curriculum.
Why go to college for English?
Wabash College English majors learn the value of close reading, accomplished writing, and literary and cultural analysis. Department faculty and staff foster an open classroom environment to encourage exploration and discussion of critical topics and methods within the field. In this way, students come to see the role imagination and the creative use of language play in helping us better understand the world and ourselves.
What can you do with a degree in English?
Strong writing skills are a valuable asset in any career. Recent Wabash graduates have pursued many careers for an English major: Value Asset Management, HS Teacher, Researcher, Pastor, Attorney, Professor, Insurance Vice President, Client Operations Specialist/Project Mgr., Librarian, Cardiac Specialist, CEO Marketing, Sales Engineering Manager, Navy Lieutenant, Television Producer, Institutional Stock Broker, Sports Entertainment, Funeral Director, IT Business Analyst, Medical Equipment Sales.
Here are some additional resources for English students.