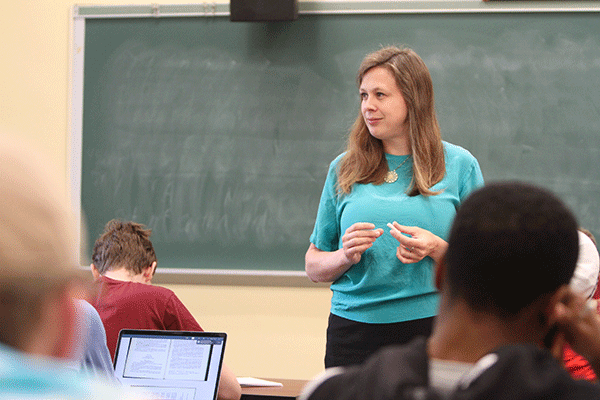 What is Philosophy, Politics, and Economics?
Wabash Philosophy, Politics and Economics (PPE) majors learn to investigate the social phenomena that are common concerns of philosophy, political science, and economics. Through the study of political economy, the history of political and economic thought, ethics, and political philosophy and theory, majors develop a variety of analytical and interpretive resources and learn to apply these resources in forming thoughtful and effective public policy. Each discipline contributes something unique to a well-rounded and multifaceted approach to public policy. Philosophy fosters clear and creative thinking, ethical reflection, and the capacity to interrogate received opinion. Political science offers both theoretical and empirical approaches to studying governing institutions and political relationships. Economics analyzes the role of incentives, markets, and governments in the allocation of resources and the distribution of income. For a full listing of courses for a degree in Philosophy, Politics, and Economics, check out our curriculum.
Why major in PPE?
At the intersection of philosophy, political science, and economics, Wabash PPE majors pursue a multidisciplinary education squarely within the liberal arts tradition by gaining a broad understanding of the complexity of public policy initiatives. Experienced and well-rounded faculty provide students with a solid foundation in each of the disciplines as well as opportunities to analyze social problems and public policy challenges using a variety of multidisciplinary approaches, including rational and public choice theory, political economy, and critical theory. Arguably, PPE's multifaceted approach is necessary to adequately evaluate any public policy proposal because such an evaluation demands answers to different kinds of questions—for example, whether the policy is politically feasible, whether it is economically efficient, and whether it is fair and just to everyone involved.
What can you do with a PPE degree?
By facilitating a multidisciplinary approach to practical problems, the Wabash PPE major offers a liberal arts education that will set students up for leadership roles in a variety of fields. Students will be prepared for jobs in public policy and business, and for law school and a variety of graduate programs in the humanities and social sciences. Moreover, students become informed and engaged citizens in a world increasingly in need of the skills and perspectives gained in the Wabash PPE program.