Freshman Excelling in Research
by Clayton Randolph '16 • June 3, 2014

Share:
Bill Nye the Science Guy likes to blow things up. So does Justin Miller '17.
It was an explosion in a high school chemistry lab that triggered Miller's love for chemistry.
"I was helping my chemistry teacher do a simple cleanup with the lab," Miller said. "I was diluting and then neutralizing some concentrated sulfuric acid and had it in this huge six-liter flask and I was slowly adding some baking soda, and finally the whole thing just exploded in the fume hood and got all over me. And at that point I said, 'You know what, as much as stuff like this sucks, it's cool it happens.'"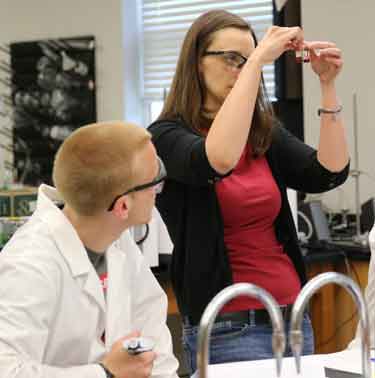 It was that chemical reaction which pointed Miller to chemistry. Although it is common for students to gravitate toward the sciences, Miller has taken an accelerated path. The freshman is one of many students spending their summer doing research, summer jobs, and participating in on-campus summer programs.
Miller will be a sophomore and is gaining valuable experience with an internship in the chemistry department alongside Dr. Laura Wysocki. "I teach organic (chemistry) which you usually don't take until your sophomore year. So there were two outstanding, motivated students who wanted to do research, so we decided to give them a shot," Wysocki said.
That is pretty impressive considering Miller has not yet been exposed to organic chemistry in the classroom.
"There is a little high school exposure for some of the students or snippets from the intro classes that look ahead at 'this is what organic will be concerned with,'" Wysocki said. "They haven't even sat in that first day yet to talk about how we think about organic chemistry differently than other types of chemistry."
Perhaps more remarkable is how Miller is able to soak up the information. He loves the thrill of failure, and he sees that as an opportunity to learn even more. And more times than not, that failure leads to a new discovery.
"What I found in taking both chemistry and biology is, one, how little I really know about them, and two, how vastly interesting that makes them because there is so much to learn, so much to possibly investigate," Miller said.
When it came down to choosing a college, Miller relied on his own instincts. That is because his parents and siblings did not attend college straight from high school.
"Neither of my parents went to college out of high school, though my mom did go back and get an Associate's Degree," Miller said. "So I am the first one in my family to go away for college. It really is fantastic."
But, it is the professors that helped make Wabash special and allowed him to grow.

"I ended up searching various colleges, applied to over a dozen. In the end it came down to Wabash or Hillsdale College in Michigan," Miller said. "Just being around some of the (Wabash) professors, having conversations with them on my visits, that's what really made Wabash stick out."
One of those professors is Wysocki and she has been instrumental in helping Miller realize his potential in organic chemistry. The two never had a class together and barely knew each other coming into summer, making the internship even more unique.
"It's a lot of fun," Miller said about Wysocki. "The trust she puts in us not to blow up her lab … and being able to really delve deep into some of these issues with her guidance, because most of it is well over my head that's for sure. But, just to slowly be guided through things as you learn more and more, she gives you that much more freedom to investigate."
"I trust him just as much as my other students," Wysocki added.
Miller grew up in northeast Indiana in the small village of St. Joe. Despite his early success in chemistry, he remains unsure of his future career plans.
"I really have no idea at all," Miller said.
He is very active outside of the chemistry department. You can find his news stories in The Bachelor; he is a member of Wabash Christian Men; the Parliamentary Union, the service fraternity Alpha Phi Omega, and, the Chemistry Club.
"Justin is curious and hardworking, he gets here early, sometimes earlier than me," Wysocki laughed. "He has a really good positive attitude in the lab, even when things are not going as you hope, and he is really quick; he catches onto things very quickly."