NSF Grant to Fund Retention Research
by Howard Hewitt • February 29, 2012

Share:
Two Wabash professors will use a grant from the National Science Foundation to study pedagogical approaches to help students in the sciences retain more knowledge.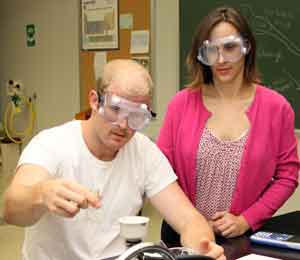 Chemistry Professors Ann Taylor and Wally Novak were awarded a National Science Foundation grant in the fall of 2011 in excess of $125,000 to analyze and implement methods to increase knowledge retention.
The Chemistry Department started a program dubbed QUACK approximately a decade ago. QUACK stands for Questions Assessing Chemical Knowledge. Chemistry professors include a five-point bonus question at the end of tests which measures retention from previous courses.
The average score on those bonus questions range from 25 to 80 percent percent, Taylor said.
"We thought about ways we could take that and implement it in biochemistry," Taylor explained. "One of the reasons biochemistry is an ideal class is because it's kind of a capstone for the minors. They've taken four other courses in chemistry and it's kind of their last course. It's a good point for juniors to remember what they learned, because it's a year before they're up for comprehensive exams.
"It seems like pretty much every day in class we end up saying, 'Remember when we did … whatever?'" Taylor and Novak agreed the responses they get from students suggest they do not recall in great detail what they learned prior to biochemistry.
The three-year grant will begin by assessing student knowledge in biochemistry. Materials developed by faculty at Seattle University will be used in assessment during the first year. Taylor, who begins a year-long sabbatical at the University of Tennessee this summer, will be working to review data and write materials for coming classes. In the grant's third year, both professors will test theories in the classroom aimed at retention — based on the first-year assessment and second-year dive into the research.
"We'll be sharing the research and asking others if they'd like to try it," Taylor said. "Then we want to see if it works for other people. Will it work in bigger classrooms like Purdue or the University of Tennessee?"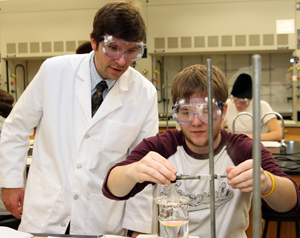 The research should also be applicable across disciplines. "Biochemistry has been late to this," Novak said. "The idea is to send students back into the literature to reinforce previously learned concepts. Anything we bring to biochem should be applicable across other fields as well."
Taylor admits frustration for having to repeat material in higher-level classes, and Novak agreed. But both stress the benefit of helping students retain more of what they learn in their early college years.
"We're successful teachers only when our students are successful when they leave here," Novak said. "The better prepared our students are, the more successful they will be. We're interested in seeing students succeed. We're interested in seeing students get into great graduate schools, great medical schools, and one of the ways we can do that is having better learning experiences and helping them retain that information."