Koutsopatriy 'a bottomless well of energy'
by Richard Paige • May 2, 2014

Share:
Ivan Koutsopatriy '16 has a backstory few can match, and it starts in Siberia.
Born in Novosibirsk, Russia, to a Greek father and Russian mother, Koutsopatriy (Koot-so-paht-tree) spent his formative years in Russia's third largest city, a stop on the Trans-Siberian Railway, as the nation was transitioning from the Soviet Union to the Russian Federation.
For perspective, Novosibirsk is closer geographically to Beijing than it is to Moscow.
When he was six, Koutsopatriy's mother, who worked in international business as a translator, met and fell in love with an American businessman based in suburban Dayton, Ohio. Following a long-distance courtship, Koutsopatriy and his mother visited him in Eaton, Ohio. It was a round-trip ticket that went unused.
It was in Eaton during third grade where Koutsopatriy learned the value of a good work ethic – directly from his mother – after posting a few Ds on his report card.
"I've always liked school and being a student. I remember my first report card in third grade. I got Ds and she whipped me into shape, so to speak," he chuckled.
He took up swimming and the alto saxophone, parlaying both into success. Despite having to commute 45 minutes each way to swim practice, he eventually became a highly successful sprinter, qualifying for the state championships.
Musically, he excelled too, earning first chair in the concert orchestra, while also playing in the jazz, pep, and marching bands.
While passionate about those pursuits, Koutsopatriy's true passion is science. The words slide matter-of-factly from his mouth and linger in the air. "I had a good run with the sax," Koutsopatriy said, "but now I'm focused on my work. You couldn't put yourself through this without loving it."
Wabash chemistry guru Lon Porter puts it much differently. "He has this passion for learning and exploring. He loves it. You can see it in his eyes," he said bursting with equal parts pride and excitement. "He lights up in the lab and he lights up in the classroom. He's a bottomless well of energy."
Perhaps the eyes are his tell. It starts in the way that he squints when contemplating a point. Maybe, it's the way he emphasizes points with his hands. Regardless, you begin to sense a drive, a focus, a confidence in Koutsopatriy that moves him forward.
"Driven would definitely be a good word to describe Ivan," said Abraham Hall '16, Koutsopatriy's roommate as a freshman. "He is simply a great guy who knows what he wants to do with his life and is not going to let anything stop him from achieving his goals."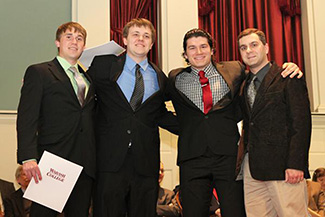 He entered Wabash in the fall of 2012 with the goal of being a doctor – "I enjoy people, I like interactions and I love science. It was a way to impact society in a beneficial way," he says – but a second semester chemistry class with Dr. Richard Dallinger opened his eyes to the world of research and shifted his paradigm.
He's now going full bore as a researcher, and much like his other pursuits, there already are signs of success. Following his freshman year, he spent the summer working in Dr. Porter's lab as a research assistant.
Koutsopatriy quickly established himself with a work ethic and drive that separates himself from others. Never afraid to ask questions, he was neither intimidated by the process nor lost sight of the learning opportunities.
"If he doesn't get it, he has the humility to ask," said Porter. "I respect that so much because too often students are afraid to admit that. When he does get it, his mind locks on it like a steel trap and he doesn't forget it."
The impact of his time in the lab last summer has not lessened. "Venturing into science with a professional was the absolute best part of my Wabash experience thus far," the biochemistry major and math minor explained. "That is the jewel of what I've done. It changed my career path to do research in chemical biology, cancer biology, something of the sort."
Porter said, "Ivan is beginning to see that he can make contributions to help people in very specific research ways."
Spurred on by those successes in the lab and a desire to work with the best, Koutsopatriy reached out on his own to world-renowned researcher Dr. Thomas M. Roberts '70, chair of cancer biology at the Dana-Farber/Harvard Cancer Center in hopes of securing a spot in the lab.
Eventually, Roberts offered an opportunity, but one without funding. So Koutsopatriy has turned this into a quest to secure his own funding through available grants and his own fundraising in order to pay his way to Boston and work with a master researcher.
The effort definitely caught Roberts' attention.
"I have been impressed by Ivan's drive and tenacity," Roberts said. "The state of funding for research in this country is terrible, which means that Ivan has really had to scramble to come up with funds. It's all been extremely impressive."
Not surprisingly, Koutsopatriy quickly understood and appreciated the two key tenets of science. First, he understood that each failure isn't an endpoint. It's a new opportunity for discovery.
"Things go wrong a lot of time in the lab," said Porter. "Ninety-nine percent of those moments are not 'eureka' moments. They are expletives. Ivan appreciates how negatives become positives and finds new ways to attack a problem."
Second, he's able to see beyond the beakers and test tubes and get a big-picture grasp of how research can build from an idea in one's mind to a new device or therapy.
"We're just talking about basic chemistry," continued Porter. "He can see the connection between the basic reaction we work on and how it could lead to something new."
Koutsopatriy isn't all about the lab. He's a physical fitness nut, who can just as easily be found working out in the Allen Center, and has found a creative outlet by working in the Lilly Library Media Center. Further, he also took a class in stagecraft and found that he loves the theater. In fact, he was part of the electrical crew for the February 2013 Wabash Theater production of "Take Me Out."
Whether in the lab or out, it just comes down to people for Koutsopatriy. "I generally enjoy the company of people," he said. "I like to be involved with something social to get a break from the books."
Porter sees balance in Ivan's approach to life. Yes, there in an intensity in his efforts, but also diversions that allow him to recharge his batteries.
"He burns in so many diverse directions," Porter said. "I love the fact that he has such a focus on science and research, but at the same time, he's balanced. He's got this drive for physical fitness. That's his outlet. To be honest, the stuff he really loves isn't work for him. He just eats it up."
The focus and intensity that others see in Koutsopatriy certainly has roots in his native Siberia, though he feels a deep obligation to capitalize on the opportunities presented to him stateside by his mother and the father who raised him.
"My mother raised me very well," said Koutsopatriy, who became a naturalized U.S. citizen prior to his 18th birthday. "It was hard to grow up in the former Soviet Union, especially around the time of the collapse. She's a very strong woman who endured much hardship, and I am very fortunate to have her and my father, who brought us out of the Soviet Union, and gave me these opportunities."
Three years ago he felt like Wabash was the perfect place for him. Everything about the school appealed to him at decision-making time. He's even happier now that the school continues to stimulate him intellectually.
"I can't explain how happy I am at Wabash. How much I enjoy the classes, the people, and the environment," said Koutsopatriy. "I couldn't have picked a better, more supportive, more nurturing place for academic and personal growth."
A Wabash Q&A
What is your favorite Wabash tradition?
The Monon Bell. That one is usually a hard one for students because while you are studying anywhere on campus, you can hear that thing ringing non-stop.
Success and failure are a part of life. To this point, what has been your favorite mistake?
I tried taking major level physics, major level biology, organic chemistry and linear algebra all in one semester. And I did that up until the first exam. I got my first D in linear algebra and I realized I got that because I didn't have time to study for it and it's not my major, so I dropped that class. There was a fear of failure because I was failing pretty hard (laughs).
If you could cook one meal, what would it be?
Vareniki, and I can cook it. It's a traditional Russian dish and if I could cook it right now, I would, and I'd eat it.
If you could give your 10-year-old self a piece of advice, what would it be?
Do you and you'll be fine.
If you have a personal credo, what is it?
Find what's important and chase it.
If in your dreams you could have created one great piece of art – painting, song, sculpture, prose, etc. – by any other person, what would it be?
If I had all the artistic skills in the world, I would carve a great statue of my mother.
If a picture is worth a thousand words, what are you doing in that picture?
Working away in a lab.
If you could wish for one thing in your future, what would it be?
To be able to give back to all of those who have given so much to me.