Classics AT
WABASH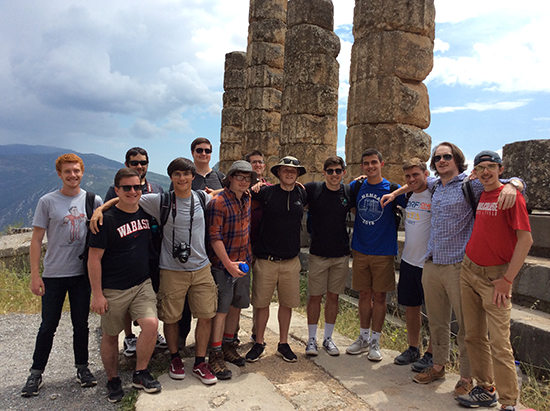 CLASSICS IS THE INTERDISCIPLINARY STUDY OF ANCIENT GREECE AND ROME. The Department, which has been at the center of the Wabash curriculum since its founding, continues to give instruction in Greek and Latin from the beginning through advanced levels, in ancient history, in Greek and Roman art and archaeology, in mythology, and in ancient literature in translation.
These offerings are supplemented by other courses that focus on aspects of ancient civilization, e.g., ancient medicine, Greek and Roman religion, Roman urban planning, ancient political theory, Greek philosophy, and ancient rhetoric. Students are encouraged to broaden their intellectual perspectives by study abroad, whether through the Department's own Immersion Courses to Italy and Greece, or through semester long programs at the Intercollegiate Center for Classical Studies in Rome and College Year in Athens. We also bring the world here to Wabash, with an active program of visiting speakers and a core faculty who travel regularly to the Mediterranean.
Whether a student has aspirations to become the next Indiana Jones or simply loves reading ancient texts, the Classics Department at Wabash is a stimulating and welcoming intellectual home. Join us for the next Suovetaurilia (sacrifice of a pig, sheep, and bull, accompanied by feasting, song, and athletic competition), chariot races on the Mall, outreach to the local community through staged readings of ancient plays, and much more.
We encourage all students to study Greek and/or Latin as the most immediate means of exploring the ancient world, of understanding the structure and vocabulary of our English language, and of preparing for the technical vocabulary used in the medical and legal professions today. Students can satisfy the College's Foreign Language Requirement through two courses in Greek or Latin.