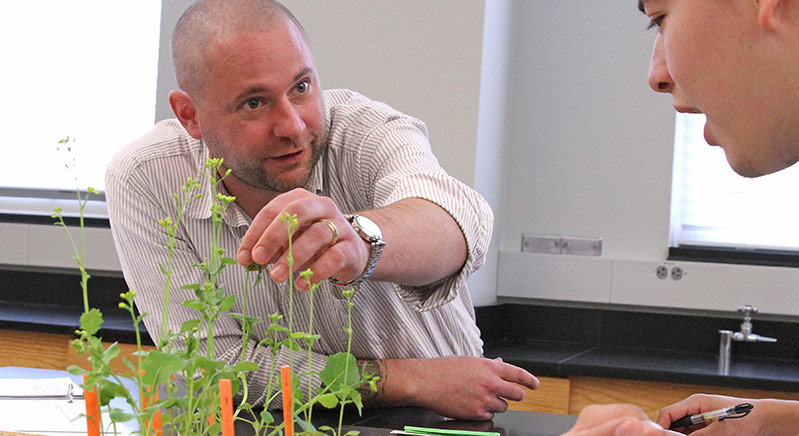 The Wabash biology department distinguishes itself with a strong and diverse faculty and a commitment to undergraduate teaching and research. In a field that is rapidly changing, the ability to acquire new information and place it in a broad context is a crucial skill. The curriculum emphasizes analytical and problem solving skills that enable students to reach their own conclusions and solutions.
Biology majors at Wabash College have a wide range of experiences in the classroom, the laboratory, and the field, which prepare them for careers in fields as diverse as medicine, molecular biology, ecology, education, and even finance or public policy. Students engage in independent research with faculty, prestigious internships off campus, and interdisciplinary internships supported by a variety of on-campus programs. Biology majors are also given many opportunities to participate in immersion courses offered by the department. Our students have recently traveled to do field work in the Everglades, Belize, Ecuador, and Peru.
Wabash biology majors pursue a range of career paths: Dentist, Optometrist, Pharmaceutical Sales, Orthodontist, Family Physician, High School Science Teacher, Pediatrician, Financial Analyst, Environmentalist, College Admissions, Surgeon, Universal Banker, Radiologist, Science Writer, Executive Chef, Plastic Surgeon, Chemist, Ophthalmologist, Aquaculture Operations Manager., Acupuncturist, Attorney, Medical Communications, CEO Tech Center, Business Analyst, College Professor, Industrial Sales, FBI, Anesthesiologist, Medical Marketing, Pastor, Foundation President, Neonatologist, Mortgage Banking, Chiropractor, Psychologist, Conservation Officer, Environmental Scientist, and Architect.