Novak Leads Three Students in Research
by Scott Morrison '14 • June 25, 2012

Share:
Each summer, Wabash College professors oversee student lab interns. The program has become an invaluable part of the Wabash education. Seniors Joe Granger and Michael Wittman along with Junior Shangqing Li are working in the chemistry labs this summer gaining experience most undergraduates cannot get.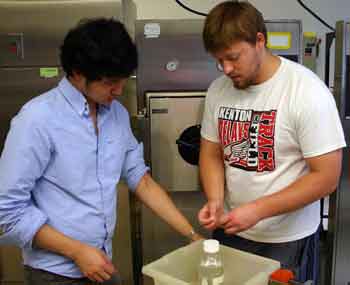 One of the main reasons Dr. Walter Novak chose to come to Wabash was the ability to work side-by-side with students in laboratory settings. Novak loves doing research but admits it is not much fun doing it alone, and he really enjoys having students participate in these opportunities.
"I could do this [lab research] in the summer by myself and could probably get it done a lot faster, but that isn't my job," Novak said. "My job is to educate these young men and give them these experiences."
Novak's three summer projects involve mutating and altering different types of proteins to study reactions and how the proteins work. (Li and Granger in photo at right)
Novak spends most of the summer simply as an overseer of the projects the students are working on. It is a sort of "trial by fire" in which he tries to let the students perform all of the procedures and learn how to adjust from their own mistakes. "They [the students] come in and read through the protocols, and I don't intervene until they have succeeded and then I congratulate them or until they fail a few times and I help them fix things. I do not step in until they get frustrated."
Granger has experienced both the joy and frustration of the research. Granger has been working with a protein which is an iron dependent regulator (meaning in the presence of iron it bonds) and is now seeing the fruits of his hard work from the past few months.
"I struggled for a month and a half during the school year because my gel wasn't consistently working, but now everything is working consistently, and I am getting good results," Granger said.
Granger's experience is exactly what the labs are intended to create. It is hard to overlook the excitement Dr. Novak and the other students have for Granger's recent successes.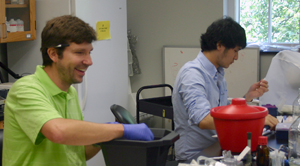 All three of Dr. Novak's understudies plan on attending graduate school after Wabash, but are not exactly sure where that will take them. What the three do know is how great this experience is when it will come time to apply for graduate school. In both the students' experiences and Dr. Novak's, this kind of research is not available for undergraduates at many state schools.
"Not everyone can do lab research, but the ability for us to do this is big for graduate school admission," Wittman said. "The grad schools really look for this kind of work, and it also lets you apply the knowledge you learn in class."
As their projects come to their conclusions over the next week, the three students are thankful for this unique Wabash experience. They now have a little bit clearer conception of what their futures may hold.
"This has been a big indicator of whether I will like grad school," Granger said. "It is good to get an idea of whether you like research or not before you go. This feels like getting paid to have fun."