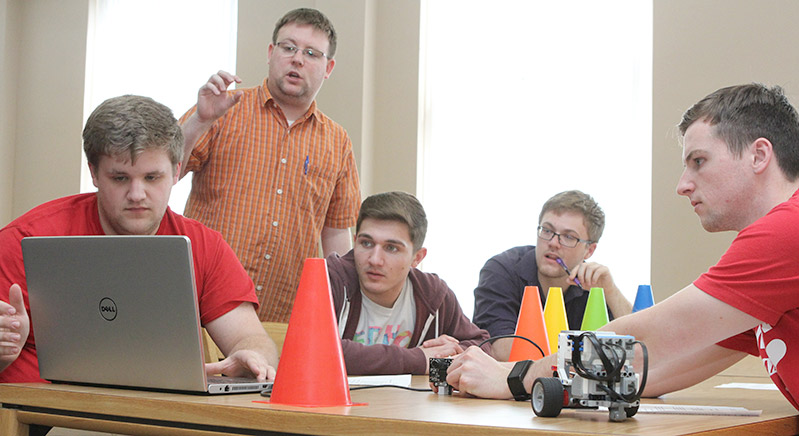 What is computer science?
Computer science deals with the theory of computation, the design of computers, and the study of automating algorithmic processes. A degree in computer science at Wabash focuses on experimentation and hands-on experience as a methodology that forms the basis for the design and use of computers. The department seeks to help computer science majors acquire computational skills and knowledge that can help define their role in a technologically-oriented society. For specific computer science course offerings, check out the full curriculum.
Why study computers in college?
Our B.A. in computer science degree involves programming, but at Wabash College students go further than learning to write code. Wabash computer science students study fundamentals of computation, analyze and design algorithmic processes, and learn to build computational tools to solve complex problems and help us understand the world in which we live. Enthusiastic and experienced faculty help undergraduates acquire core foundational knowledge as well as cutting edge skills.
What can you do with a computer science degree?
The expanding field of careers in computer science support an exciting range of jobs for a computer science degree. Recent Wabash graduates have gone to work in various aspects of software development, data science, engineering, computational biology, scientific computing, and business analytics. Companies with Wabash graduates include Facebook, Microsoft, Amazon, Airbnb, Charles Schwab, and Epic. Some of our graduates have also pursued graduate degrees in computer science or related areas, giving them even more options in their field of interest.