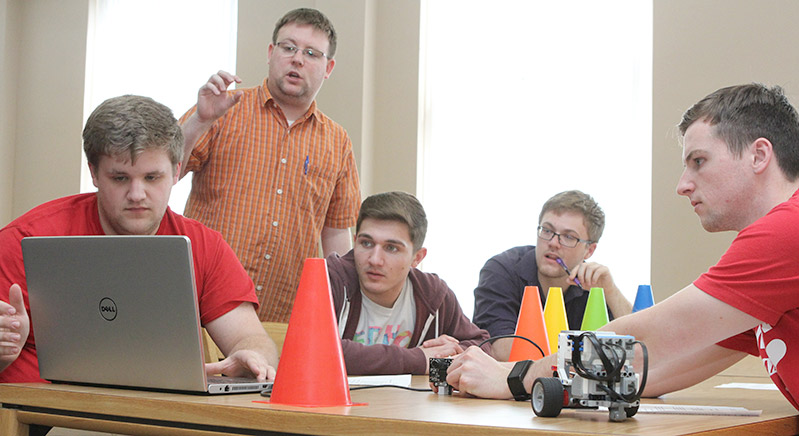 What is computer science?
Computer science deals with the theory of computation, the design of computers, and the study of automating algorithmic processes. A degree in computer science at Wabash focuses on experimentation and engineering as a methodology that forms the basis for the design and use of computers. The department seeks to help computer science majors acquire a sense of the nature of the mathematics and languages inherent to computing that define their role in society. For specific computer science course offerings, check out the full curriculum here.
Why study computers in college?
Our B.A. in computer science degree involves programming, but at Wabash College students go further than writing complex or eye-catching programs. The broad base of knowledge available in a liberal arts education helps students design better approaches to their programming and comprehend how to solve new problems with computing. Enthusiastic and experienced faculty teach undergraduates useful frameworks and skills to leverage and apply to future computing projects well after their college years.
What can you do with a computer science degree?
Careers in computer science are widely available, but a Wabash graduate can choose from a wide variety of career choices. Recent Wabash majors landed the following jobs with a computer science degree: Police officer, Actuary, Benefits Administration, Contractor, Loan Advisor, Software Development, Pastor, Managing Director (GTX Enterprise), HS Teacher, Project Manager/Principal Leader, Corporate Treasurer, Corporate Strategy, Biochemistry Researcher, Insurance Vice President/Actuary, Project Engineer, Business Development, Financial Services, Business Analyst, Accountant, Quality Assurance, Pharmacist, Bank Vice President, Manufacturing Supervisor, Account Manager, Professor.