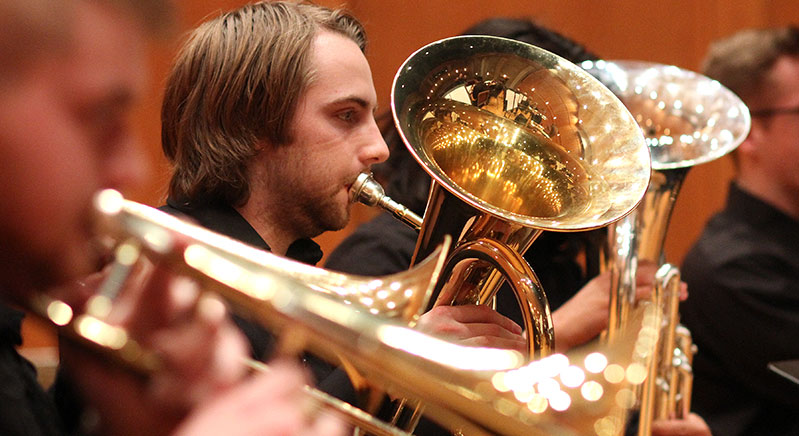 Why study music?
At Wabash College, the study of music engages students through the theory of music on its own terms, the history of music as written documents, the practice and performance of music, the anthropology of music around the world, and the technology of music analog and digital. Music majors choose music classes that enrich their ensemble experience, satisfy distribution requirements, and in pursuit of a music major or minor in the context of a liberal arts education. For a complete list of music course offerings, check out our curriculum.
Why go to college for music?
The Wabash College Music Department emphasizes three broad aspects of music: theory, history, and performance. In addition, many majors and non-majors pursue special interests through independent study with professionally-trained and practicing faculty. Students may participate in five different ensembles including Orchestra, Brass Ensemble, Jazz Ensemble, Wamidan World Music Ensemble, and the Glee Club. The Music Department also offers private lessons for majors and non-majors alike with a number of studio instructors. Take a look at the music facilities located in the Fine Arts Center, including the Lewis S. Salter Councert Hall, Korb Media Classroom, electronic music studio, computer-aided music lab, and various practice rooms.
Each year the Music Department engages with theater and art to present a variety of performances for the Wabash and Crawfordsville community. The Fine Arts Calendar details this year's programs.
What can you do with a major in music?
In addition to careers in performance, music majors can also take time off to gain work experience before beginning graduate work. Recent Wabash music majors have pursued careers in the following areas: State Child Services Field team, Law Clerk, Senior Specialty Sales Professional, HS Teacher, COO, Accounting Associate, Chief Technology Officer, Supervisor, Fraternity Chapter Coordinator, Financial Services, National Fleet Manager, Multimedia Video & Graphics Designer.