Faculty Development
Wabash faculty share a commitment to sustained intellectual growth through continued scholarly or creative work. While the nature of this work varies by discipline, and may change during the course of a career, a common feature is that at least some of it will extend beyond the institution such that it contributes to the world of scholarship or fine arts outside the College. Research and creative activity should not compete with or detract from excellence in teaching. Rather, they enhance and complement teaching by engaging students, directly or indirectly, in the search for new knowledge and understanding, synthesis, and application.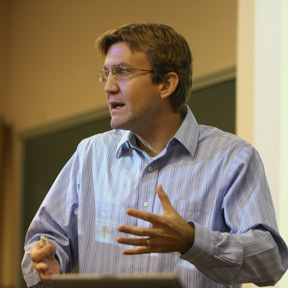 Sabbatical Leave
A formal sabbatical leave program, one year at half pay or one semester at full pay, went into effect with the academic year 1962-63. Faculty members become eligible in their sixth year at Wabash College to apply for a sabbatical leave in their seventh year, assuming that they have received tenure. They are then eligible to apply for additional sabbatical leaves at seven-year intervals.
McLain-McTurnan-Arnold Awards
The McLain-McTurnan-Arnold Research Program provides a semester free of teaching and other College duties for the purpose of pursuing a research project in one's field. Research is defined broadly to include any original investigative work. Salary and benefits are provided by the College during the period of study. Additionally, each year the Dean of the College selects a member of the faculty to receive the McLain-McTurnan-Arnold Excellence in Teaching Award, which is a cash prize given to that member of the faculty whose colleagues and students deem most worthy of the award.
Every faculty member approaches his or her faculty development differently and should discuss this annually with his or her department chair. In addition to those mentioned above, the College offers support in several specific ways:
Updating and expansion of computer hard- and software, enabling easy access to electronic data bases and Internet;
Funds from the Dean of the College's office for most of the expenses for professional meetings up to a total of $2000 per faculty member per fiscal year;
Access to Coss Faculty Development Funds, the distribution of which is based on colleagues' judgment of individual proposals;
Research and summer stipends for all initial two-year Byron K. Trippet Assistant Professorships;
The Summer Internship Program in all three collegiate divisions;
Staff assistance from the Advancement Office and the Dean of the College's Office in identifying potential funding sources and in writing grant proposals to support annual as well as sabbatical research or creative work.