About the Area
Wabash College is located in Crawfordsville, Indiana, a community of about 15,000 residents within Montgomery County — (population 33,000) that was designated a Stellar Community in 2015. The town is 45 miles northwest of Indianapolis, 28 miles from Lafayette, Indiana (Purdue University), and roughly 150 miles southeast of Chicago.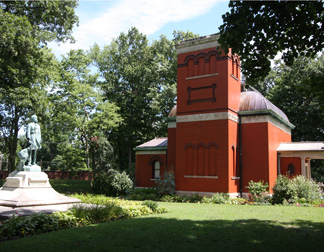 Crawfordsville is served by Interstate 74, which passes by the north edge of the city at U.S. 231. Interstate 65 passes through Lebanon, Indiana, which is 22 miles from Crawfordsville. Crawfordsville is served by Amtrak, which takes passengers to Chicago and Indianapolis daily.
Montgomery County has three public school corporations — Crawfordsville Community Schools, North Montgomery School Corporation, and South Montgomery School Corporation. The Crawfordsville Community School Corporation offers a gifted and talented program for students who qualify.
The city and surrounding counties boast more than 100 religious organizations devoted to a variety of belief systems, including but not limited to catholic, African Methodist Episcopal, and Unitarian Universalist traditions.
Montgomery County is also home to several museums including the Carnegie Museum, DAR House, Lane Place, Lew Wallace Study, Linden Railroad Museum, and Rotary Jail Museum — and the stunning Crawfordsville District Public Library.
Other cultural opportunities include the Sugar Creek Players, a community theater located downtown, the Athens of Indiana Art Studios and Gallery, and the Tannenbaum Cultural Center. There is also a Community Chorus, Community Band, and Chamber Orchestra (comprising community members and Wabash students, faculty, and staff).
The community is also served by organizations devoted to cultural diversity and social justice. Humans United for Equality has cosponsored celebrations of Martin Luther King, Jr. (with the Wabash Malcolm X Institute), community diversity, and holiday celebrations from across the globe. The mayor-appointed Human Rights Commission, a group on which Wabash faculty and staff currently sit, began its work in 2016 and has led initiatives to combat discrimination.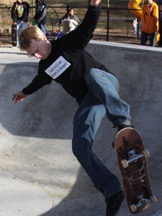 There are many opportunities for outdoor recreation. Sugar Creek is a popular canoeing destination and flows through two Indiana state parks that are within 20 minutes of campus, Shades State Park and Turkey Run State Park. The Sugar Creek Trail, Pine Hills Nature Preserve, the Bachner Nature Preserve, and the Sugar Creek Nature Park are also easily accessible.
Milligan Park in Crawfordsville boasts baseball and softball diamonds, a 50-meter outdoor pool, several playgrounds and picnic areas, and the Crawfordsville Skate Park. Nearby Milligan Park is the Crawfordsville Community Center, which offers health and fitness classes for all ages.
Crawfordsville is also the home of three summer festivals: the Taste of Montgomery (August, sponsored by the General Lew Wallace Study and Museum), the Strawberry Festival (June), and the Montgomery County 4-H Fair (July).
For more information on Crawfordsville and Montgomery County, please see the Convention and Visitors Bureau website.