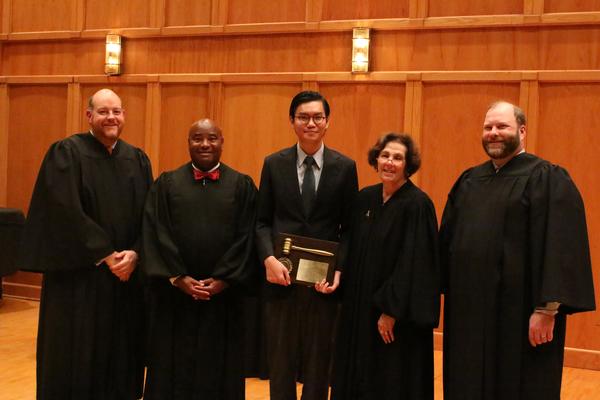 Wabash College's Fall Moot Court competition offers Wabash students an excellent opportunity to engage in legal argumentation with training and support from fellow Wabash Alumni who are now practicing attorneys.
Students are given materials and coaching necessary for arguing a legal dispute adapted from an actual case pending before the United States Supreme Court. Competition comes from fellow students who are assigned the opposing argument, and the arguments are presented to panels of judges consisting of alumni attorneys and Wabash faculty.
In short, this is a great opportunity to add to your resume, gain experience, and meet/work with Wabash Alumni.
The fall 2021 moot court problem is modeled on the appeal involving the Boston Marathon bombings. Two brothers detonated bombs at the 2013 Boston Marathon causing battlefield-like carnage, killing three and causing hundreds more to suffer horrific, life-altering injuries. Later, the brothers also gunned down a local campus police officer in cold blood. Reports and images of their brutality flashed across the TV, computer, and smartphone screens of a terrified public. This year's problem raises two questions. First, did the trial judge take sufficient steps to ensure that this pretrial publicity, some of which was inaccurate and inadmissible, did not prejudice the trial? Second, did the trial judge improperly exclude evidence that the older brother may have dominated the younger brother, and should the jury have heard that evidence before it decided to sentence the younger brother to death?
---
Past Moot Court Competitions
Spring 2021, 2019, 2018, 2017, 2016, 2014, 2013, 2012, 2011, 2010, 2009, 2008, 2007, 2006, 2001, 2000,
1999, 1998, 1997, 1996, 1995