Rhetoric
Moot Court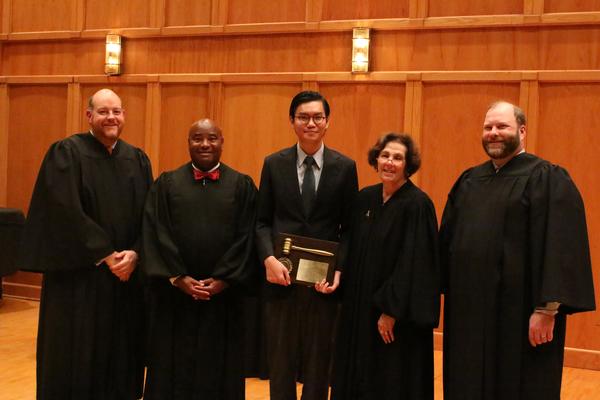 Wabash College's Fall Moot Court competition offers Wabash students an excellent opportunity to engage in legal argumentation with training and support from fellow Wabash Alumni who are now practicing attorneys.
Students are given materials and coaching necessary for arguing a legal dispute adapted from an actual case pending before the United States Supreme Court. Competition comes from fellow students who are assigned the opposing argument, and the arguments are presented to panels of judges consisting of alumni attorneys and Wabash faculty.
In short, this is a great opportunity to add to your resume, gain experience, and meet/work with Wabash Alumni.
The 2018 moot court problem is a variation on Johnson v. United States, a Seventh Circuit case that has been advanced for possible consideration by the United States Supreme Court. The case considers the circumstances in which police can reasonably approach and search a parked car based on a suspected parking violation. It raises interesting questions related to the Fourth Amendment, probable cause, and reasonable suspicion. In this instance these questions intersect with social issues in regards to the neighborhoods or locations in which such seizures generally take place.