Rhetoric
Moot Court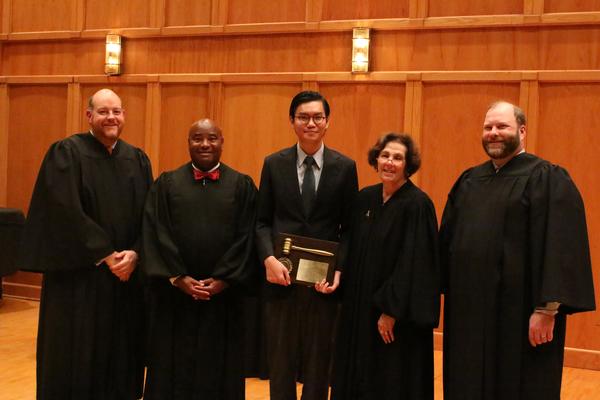 Wabash College's Fall Moot Court competition offers Wabash students an excellent opportunity to engage in legal argumentation with training and support from fellow Wabash Alumni who are now practicing attorneys.
Students are given materials and coaching necessary for arguing a legal dispute adapted from an actual case pending before the United States Supreme Court. Competition comes from fellow students who are assigned the opposing argument, and the arguments are presented to panels of judges consisting of alumni attorneys and Wabash faculty.
In short, this is a great opportunity to add to your resume, gain experience, and meet/work with Wabash Alumni.
The 2017 moot court problem involves a variation on Masterpiece Cakeshop v. Colorado Civil Rights Commission, a case to be heard by the Supreme Court in its 2017-18 term. The case involves a baker who refused to bake a cake for a same-sex wedding. Specifically, it considers whether a state law that makes it illegal for a business owner to discriminate on the basis of sexual orientation when deciding who to serve is a violation of the owner's rights under the Free Speech Clause or the Free Exercise Clause.