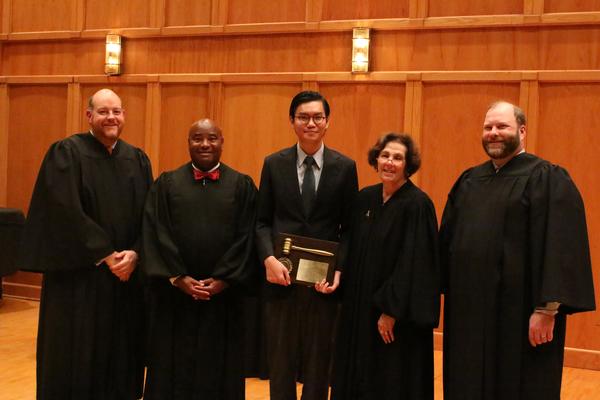 Wabash College's Fall Moot Court competition offers Wabash students an excellent opportunity to engage in legal argumentation with training and support from fellow Wabash Alumni who are now practicing attorneys.
Students are given materials and coaching necessary for arguing a legal dispute adapted from an actual case pending before the United States Supreme Court. Competition comes from fellow students who are assigned the opposing argument, and the arguments are presented to panels of judges consisting of alumni attorneys and Wabash faculty.
In short, this is a great opportunity to add to your resume, gain experience, and meet/work with Wabash Alumni.
The 2019 moot court problem considers the right to keep and bear arms. In 2008, the US Supreme Court ruled for the first time that the Second Amendment extended beyond military service to a case involving the right to possess a handgun in one's home for purposes of self-defense. Since then federal courts across the nation have been trying to determine the extent to which this right extends beyond the home into public spaces. It raises interesting questions about the scope of Second Amendment rights.
Past Moot Court Competitions
2018, 2017, 2016, 2014, 2013, 2012, 2011, 2010, 2009, 2008, 2007, 2006, 2001, 2000,
1999, 1998, 1997, 1996, 1995