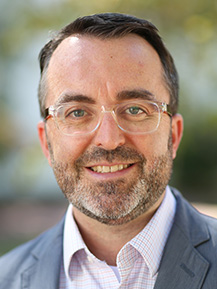 Jeremy Hartnett
PROFESSOR OF CLASSICS, ANDREW T. AND ANNE FORD CHAIR IN THE LIBERAL ARTS
Professor Jeremy Hartnett began teaching at Wabash in 2004 after graduate work at the University of Michigan and a post-doc year at Oberlin College. A specialist in Roman archaeology and social history, he studies sites in Italy including Pompeii, Herculaneum, and Rome. In particular, Prof. Hartnett is drawn to daily, ground-level interaction in Roman cities.
His first book, The Roman Street: Urban Life and Society in Pompeii, Herculaneum, and Rome (Cambridge University Press, 2017) tries to breathe life back into urban thoroughfares. Recapturing the flurry of city activity involves drawing on the evidence of historical and poetic texts, inscriptions, artwork, monuments, and buildings as well as mixing in comparative evidence. A New Directions Grant from the GLCA has allowed Prof. Hartnett to place Roman street life in a broader cross-cultural context by examining public urban space in a variety of times and places, from Early Modern Florence to today's Mexico City.
Prof. Hartnett's next big project, a book tentatively entitled Face to Face with the -PQR, offers case studies that further examine the daily embodied experience of Rome's lower social strata. An additional current of research tackles the intersection of sound and Roman urban society: not just what cities sounded like, but how Romans made sense of their world through what they heard and how they sought to control it through the noises they made. Another New Directions Grant has aided this work.
Prof. Hartnett teaches across the discipline of Classics, including both ancient languages as well as the history and archaeology of Greece and Rome. His Elementary Latin classes are renowned for a combination of jocularity and rigor (daily quizzes!), while the Classics senior seminar has wrestled with material as diverse as Roman sculpture from the Louvre, ancient coins and a unique funerary monument from the Indianapolis Museum of Art, and epic poetry from (who else?) Homer. During the 2008-2009 academic year Prof. Hartnett taught at the Intercollegiate Center for Classical Studies in Rome; he has served on the Centro's managing committee and returned to Rome as the Centro's Andrew W. Mellon Professor-in-Charge in 2017-2018. One of his greatest joys as a teacher is leading students overseas, especially to Italy – for pleasures intellectual, cultural, artistic, architectural, and definitely culinary. In addition to his two teaching stints at the Centro, he has led somewhere around 8 other groups abroad.
Dr. Hartnett is proud to uphold the Classics Department's reputation for feeding hungry Wallies in grand style. Students know his gift for the grill and the pasta pot, but his family (including sons Henry and Silas) acknowledges that he is a whiz with leftovers. Prof. Hartnett's passion for Michigan football, despite the playful ribbing of his students, still runs strong. He is a proud member of the Wabash College Pep Band; he zealously wields the herald trumpet and also holds the current record for most drums broken due to rabid, insatiable pep (at least 5).

Hartnett speaks of his work inside and outside the classroom.
EDUCATION
Ph.D. Classical Art and Archaeology, University of Michigan, 2003
M.A. Latin, University of Michigan, 1999
M.A. Classical Art and Archaeology, University of Michigan, 1999
A.B. summa cum laude, Classical Civilization, Wabash College, 1996
RECENT COURSE OFFERINGS
Latin 101/102 – Elementary Latin
Latin 201 – Intermediate Latin: Insult, Abuse, and Invective in Ancient Rome
Latin 303 – Virgil's Aeneid
Classics 103/Art 103 – Greek Art and Archaeology
Classics 104/Art 104 – Roman Art and Archaeology
Classics 106/History 212 – Ancient Rome (history survey)
Classics 112/History 210 – Houses and Society in the Ancient World
Classics 212/Religion 260 – Early Christianity in Rome (with trip to Italy)
Classics 212/History 310 – Self and Society in Ancient Rome (with trip to Italy)
Classics 212/History 310 – The Art of Empire in Ancient Rome (with trip to Italy)
Classics 212/History 310 – The Ancient Roman City (with trip to Italy)
Classics 400 – Senior Seminar (Flavius Agricola: A Funerary Monument and its Epitaph)
Freshman Tutorial – Virgil's Aeneid and Augustan Rome
Freshman Tutorial – Caesar Builds Wabash: How Ancient Rome Can Help Us Design Our Next Campus Center
RECENT PRESENTATIONS
"Street Theater: A Pompeian Neighborhood in Five Acts" John Cabot University, Rome; 2018
"Beyond the 1%: How Everyday Romans Lived" The Getty Villa, Malibu; 2017.
Contributing faculty member, NEH summer seminar for school teachers, "Roman Daily Life in Petronius and Pompeii" Gustavus Adolphus College; Matthew Panciera, director; Summers 2016, 2018.
"Numismatic Caesar: Using Coins in the Latin Classroom" American Classical League, Austin; 2016.
"Sound as a Roman Urban Social Phenomenon" Stadterfahrung als Sinneserfahrung in der römischen Kaiserzeit, Hannover, Germany; 2014
"Listening to Pompeii: Hearing History in the Roman City" Wesleyan University; 2013
"Neighborhood Knowledge at the Bar: A Microhistory of the Rogatores of IX.11.2" CAMWS Annual Meetings: Iowa City; 2013
"The Legacy of Rome" Co-presenter at three-day seminar, The Aspen Institute; 2012
"Faces Past: Ancient Imaginations and the Craft of Social History" The 33rd Annual LaFollette Lecture, Wabash College; 2012
"Overhearing? Soundscapes and Society in the Roman Neighborhood" Theoretical Roman Archaeology Conference: Frankfurt; 2012
"Vesuvius and its Victims" Press and VIP Preview to A Day in Pompeii, Boston Museum of Science; 2011
"Legal Prescriptions, Social Ideals, and Public Space in Ancient Rome: The Case of the Tabula Heracleensis" Bienniale dello Spazio Pubblico: Istituto Nazionale Urbanistica: Rome; 2011
"The Aesthetics of Pompeian Electoral Inscriptions: Questions and Hypotheses" CAMWS Annual Meetings: Oklahoma City (with Rebecca Benefiel, Washington and Lee University); 2010
RECENT PUBLICATIONS
The Roman Street: Urban Life and Society in Pompeii, Herculaneum, and Rome (Cambridge University Press, 2017)
"Flavius Agricola: An Interdisciplinary Model for Senior Capstone Courses" Classical Journal 112.1 (2016): 217-234.
"Sound as a Roman Urban Social Phenomenon" in Stadterfahrung als Sinneserfahrung in der römischen Kaiserzeit (2016), edited by A. Haug and P. Kreuz, Brepolis, 159-178.
"The Power of Nuisances on the Roman Street" in Rome, Ostia, and Pompeii: Movement and Space (2011), edited by R. Laurence and D. Newsome, Oxford University Press, 135-159.
"Excavation Photographs and the Imagining of Pompeii's Streets: Vittorio Spinazzola and the Via dell'Abbondanza" in Pompeii in the Public Imagination From Its Rediscovery to Today (2011), edited by S. Hales and J. Paul, Oxford University Press, 246-269
"Si quis hic sederit: Streetside Benches and Urban Society in Pompeii" American Journal of Archaeology 112.1 (2008), 91-119.
"Fountains at Herculaneum: Sacred History, Topography, and Civic Identity" Rivista di StudiPompeiani 19 (2008), 77-89.
HONORS AND AWARDS
Anne and Andrew T. Ford Chair in the Liberal Arts, Wabash College; 2014-
New Directions Initative Grant, Great Lakes Colleges Association; 2014
33rd Annual LaFollette Lecturer; 2012
McLain-McTurnan-Arnold Research Scholar, Wabash College; 2011-2012
National Endowment for the Humanities Summer Stipend; 2011
New Directions Initiative Grant, Great Lakes Colleges Association; 2011
National Endowment for the Humanities Summer Seminar, "Identity and Self-Representation Among the Sub-cultures of Ancient Rome," American Academy in Rome; Eleanor Leach and Eve D'Ambra, co-directors; 2008
Rackham Distinguished Dissertation Award, University of Michigan; 2003
Associate Fellow, Michigan Society of Fellows; 2001-2002
ET CETERA