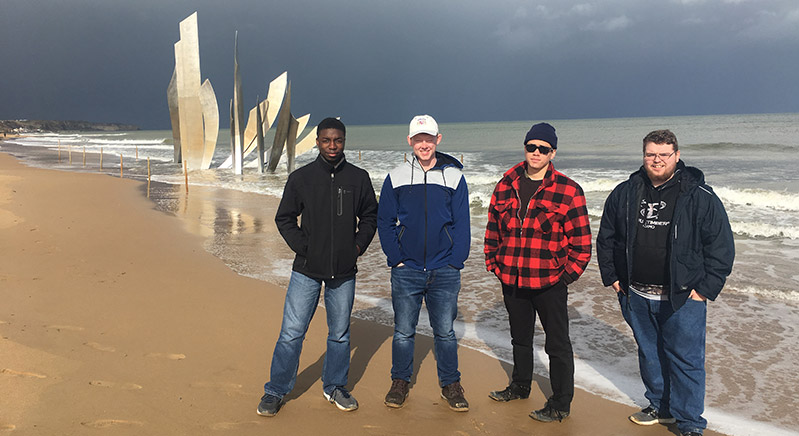 Why study French?
Wabash College understands that learning French is one avenue of many for understanding and interacting with the world, its peoples, and its histories. The Department of Modern Languages and Literatures prepares students for citizenship in a multicultural, multilingual global community, promoting proficiency in the French language as one path to expand knowledge of cultures and literatures in a pluralistic world. Proficient and engaged faculty work with students to provide a greater understanding of world affairs through the historical context, traditions, achievements, and lifestyles of the French-speaking world.
Why major in French?
The Department of Modern Languages and Literatures offers major and minor programs in French. The French program offers courses ranging from beginning language to advanced seminars on literature and culture. Elementary French classes require no previous experience with the language; students who complete those courses will have acquired a fundamental understanding of French culture and language. French majors engage in advanced courses that enable students to review and further develop language skills within a cultural context. Most of our French students either study abroad at some point during their junior year, participate in senior-level topics courses, or take part in immersion trips to France. Recent students have lived in Paris, Strasbourg, or Aix-en-Provence for their study-abroad experiences, and some traveled to Paris and Normandy for an immersion trip focused on the history of France. Classes in Economics and History also visit France as part of their studies. For a full course offering, check out the French curriculum here.
What can you do with a degree in French?
Real-world experiences in French open doors to Wabash men. Recent graduates have turned their French major into many different career paths: Attorney, Police Officer, Professor, Compliance Analyst, Concert Production Manager, Chemical Operator, Assistant Solicitor General, President of Consulting Firm, Actuarial Analyst, Teacher in Paris, MGM Publicity Specialist, National Retailer VP, Art Institute President.