Classics AT
WABASH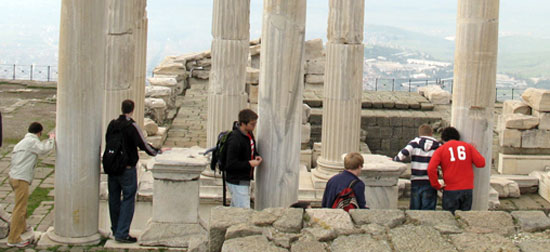 Classics has been at the center of the Wabash curriculum since its founding. The Department continues to give instruction in Greek and Latin from beginning to upper levels, ancient history, Greek and Roman art and archaeology, and ancient literature in translation.
These offerings are supplemented by other courses that focus on aspects of ancient civilization, e.g., ancient political theory, Greek philosophy, and ancient rhetoric. Students are encouraged to broaden their intellectual perspectives by study abroad, and has special ties to the Intercollegiate Center for Classical Studies in Rome and the American School of Classical Studies in Athens.
Whether a student simply loves reading ancient texts or has aspirations to become another Indiana Jones, the Classics Department at Wabash is a stimulating and welcoming intellectual home.
Students can emphasize the study of Greek or Latin language and literature in the Classics Department. Second, students can explore Greece and Rome in non-language courses falling into the broad categories of ancient literature, ancient history, and art and archaeology.