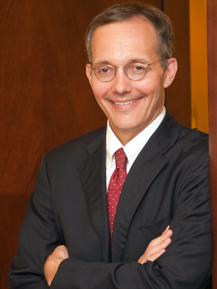 Scott Himsel
ASSOCIATE PROFESSOR OF POLITICAL SCIENCE
Scott Himsel really enjoys his unusual position at Wabash. He teaches and advises prelaw students and also practices law. Drawing on his experience as a lawyer, Scott helps students take the lead in arguing hot button issues like gay marriage, abortion, and the death penalty. He particularly enjoys challenging students to make arguments with which they disagree so they learn how to "walk all the way around" a problem. Scott also enjoys teaching a freshman tutorial that deals with politics and history each year.
In addition to his teaching, Scott also guides students who are considering a legal career. He helps oversee Wabash's prelaw program, including an annual moot court where students argue a case to lawyer alumni and judges; preparation for the Law School Admissions Test, which lawyer alumni help fund; law school visits; an annual Chapel talk on a current legal controversy; and the annual Peck Lecture, which features eminent lawyers who share their experiences with students.
Scott has practiced law for over twenty years in Indianapolis at Baker & Daniels. His law practice focuses on clients that serve students including colleges, universities, sororities, fraternities, and religious organizations. Scott's wife Jane Ann, a fellow Northwestern University law graduate, practices employment law in Indianapolis at Littler Mendelson. Scott and Jane Ann share a strong interest in how law and religion intersect; they attend North United Methodist Church. Scott loves opera, classical music, swimming, running and reading biographies.
EDUCATION
A.B., Wabash College
J.D., Northwestern University
RECENT COURSE OFFERINGS
PSC 313-Constitutional Law
PSC 315/REL 280 Religious Freedom
PSC 314-Civil Liberties in War and Peace
FRT10I-Founding Brothers and Revolutionary Characters
FRT11F-Winning World War II: Lessons in Character and Leadership from Franklin D. Roosevelt and Winston Churchill
RECENT PRESENTATIONS
"Guns, Marijuana, and Obamacare: Is there any limit to Congress's Power?" Wabash Chapel Talk, Fall 2011.
"Should it be a crime to teach a terrorist how not to be a terrorist?" Wabash Chapel Talk, Fall 2010
"Guns, Integrity and Tradition: Do we really have the right to keep and bear arms?" Wabash Chapel Talk, Spring 2009