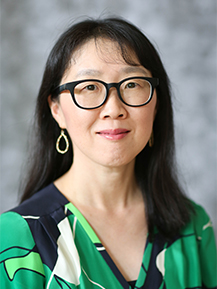 Christie Byun
ASSOCIATE PROFESSOR OF ECONOMICS
Dr. Christie Byun joined Wabash College in 2007. Her research interests include the theory of habit formation and how it influences household consumption choices. She also does research in environmental economics, and is interested in free market environmentalism and how markets can be used to determine efficient allocations of natural resources. Her teaching areas include Principles of Economics, Econometrics, Statistics for the Social Sciences, Environmental Economics, Economics and Public Policy, The Economic Approach with Microsoft Excel, and Senior Seminar. She has also taught a Freshman Tutorial course called the Economics of the Popular Music Industry. Students in the tutorial examined the question of how musical creativity survives and adapts in a constantly evolving music business. The tutorial included a trip to the Rock and Roll Hall of Fame in Cleveland, Ohio where students had the opportunity to learn about popular music, its history and its diverse roots. Dr. Byun is interested in how the business side of the music industry and music technology can influence the process of creating music and has a book, The Economics of the Popular Music Industry on Palgrave Pivot Press.
Dr. Byun strongly believes in the power of immersion learning and has led an immersion trip for her Environmental Economics class to Alaska, where they met with representatives from the oil and natural resource industries, conservation groups, and Native groups. Dr. Byun is committed to collaborative research with students and has sponsored several students' research presentations at various conferences, including the Midwest Economics Association Annual Meeting, the Indiana Academy of Social Sciencs Annual Meeting, and the Wabash College Celebration of Student Research. She has also worked on interdisciplinary research with Dr. Ethan Hollander of the Political Science department on the causes of the Arab Spring uprisings in the Middle East. She is a board member of the Indiana Academy of Social Sciences and a faculty liaison for the Committee on the Status of Women in the Economics Profession.
In her spare time, Prof. Byun enjoys yoga, knitting, slacklining, and rock climbing. She also likes listening to music of various genres including progressive rock, classical, baroque, and jangly Britpop. Her three favorite bands are XTC, King Crimson, and the Beastie Boys.
EDUCATION
Ph.D. in Economics, University of California, Riverside
B.A. in Economics, University of California, Berkeley
RECENT COURSE OFFERINGS
ECO 101 — Principles of Economics
ECO 251 — The Economic Approach with Microsoft Excel
ECO 253 — Introduction to Econometrics
ECO 232 — Economics and Public Policy
ECO 234 — Introduction to Environmental Economics
ECO 291 — Intermediate Microeconomics
ECO 292 — Intermediate Macroeconomics
ECO 377 — Environmental Economics Seminar
ECO 401 — Senior Seminar
The Financial Crisis of 2007 – 08
Environmental Economics
Monetary Policy Since the Financial Crisis
Division III — 252 Statistics for the Social Sciences
Freshman Tutorial – The Economics of the Popular Music Industry
Freshman Tutorial – Fashion, Innovation, and Entrepreneurship: How to Dress Like a Gentleman in the 21st Century
RESEARCH
Music Industry Economics, Environmental Economics, Habit Formation
RECENT PRESENTATIONS
"Economics of the Popular Music Industry"
Sung Kyung Kwan University, Seoul, Korea, MBA Program invited talk, 2015
Wally Tunes, A Wabash Symposium on Music and the Liberal Arts, 2014
Indiana Academy of Social Sciences Annual Meeting, 2014
"The Coase Theorem and the Alaska Native Claims Settlement Act"
Midwest Economics Association Annual Meeting, 2014
Eastern Economics Association Annual Meeting, 2014
Indiana Academy of Social Sciences Annual Meeting, 2013
"Teaching the Coase Theorem and the ANCSA in Environmental Economics"
Midwest Conference on the Scholarship of Teaching and Learning, 2013
"Complements and Substitutes for Digital Music Downloads"
Wabash College Division 3 Colloquium, 2013
"Report from the Front: Successes and Failures of Innovative Teaching Methods"
Midwest Economics Association Annual Meeting, 2014
"Explaining the Intensity of the Arab Spring" (co-authored with Dr. Ethan Hollander)
Midwest Economics Association Annual Conference, 2013
Western Economics Association Annual Conference, 2012
Indiana Academy of Social Sciences Annual Meeting, 2012
"Economic Valuation of the Water Quality in Sugar Creek"
Midwest Economics Association Annual Conference, March 2011
Indiana Academy of Social Sciences Annual Meeting, 2010
Western Economic Association Annual Conference, July 2010
"A View from a Liberal Arts Institution"
Committee on the Status of Women in the Economics Profession Panel, Midwest Economics Association Conference Meeting, 2013
"Asian Studies and the Liberal Arts"
Asian Studies Development Program Annual Conference, July 2010
"Habit Formation and Household Consumption: A Semiparametric Panel Data Analysis"
Midwest Economics Association Annual Conference, March 2007
Western Economic Association International Annual Conference, July 2006
"Optimal Taxation with Habit Formation and Catching Up with the Joneses"
Rose-Hulman Institute of Technology, Department of Humanities and Social Sciences Seminar, January 2007
RECENT PUBLICATIONS
The Economics of the Popular Music Industry, Palgrave Pivot Press, 2016
"A Model of Relative Consumption", The Pennsylvania Economic Review, 2016
"Explaining the Intensity of the Arab Spring", Digest of Middle East Studies, 2015
"The Coase Theorem and the Alaska Native Claims Settlement Act", Journal of Economics and Economic Education Research, 2015
"The Prisoner's Dilemma and Economics 101: Do Active Learning Exercises Correlate with Student Performance?", Journal of the Scholarship of Teaching and Learning, 2014
"Habit Formation and Household Consumption: A Semiparametric Approach", Advances in Economics and Business, 2013
"Economic Valuation of the Water Quality in Sugar Creek", Journal of the Indiana Academy of Social Sciences, 2013
"A Model of Relative Consumption", Proceedings of the Pennsylvania Economics Association Annual Meeting, 2013
"Utility Functions", International Encyclopedia of Social Sciences, 2nd Edition, 2007
HONORS AND AWARDS
CILA Grant for Program and Course Development for Student Retention
Byron K. Trippet Assistant Professorship, Research and Summer Stipend
Know Indiana Faculty Summer Research Grant
Rogge Fund Faculty Development Grant
Outstanding Teaching Assistant Award, University of California, Riverside