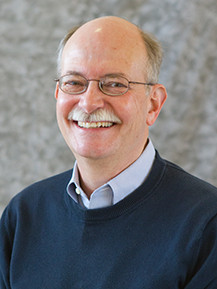 L. David Polley
PROFESSOR OF BIOLOGY EMERITUS
My teaching and research interests are in the area of genetics and molecular biology. My research is directed toward elucidating genetic mechanisms for the regulation of potassium transport in the unicellular green alga, Chlamydomonas reinhardtii. My students and I have isolated mutant clones of Chlamydomonas that are defective for potassium transport and have used these to characterize genes that encode potassium transport genes. Current efforts in my lab are directed toward cloning the potassium transport genes by employing both positional cloning and insertional mutagenesis techniques.
When not in the classroom or in the lab, I have been involved in a variety of community activities. I was a past board member of the local environmental group, Friends of Sugar Creek, and I was the first president of the Sugar Creek Advisory Board which advised the County Commissioners about issues related to Sugar Creek. I enjoy spending my free time cycling, swimming, jogging, kayaking and hiking.
EDUCATION
B.A. Miami University (Ohio) 1970
Ph.D. Yale University 1975
RECENT COURSE OFFERINGS
BIO 111 & 122 - Introductory Biology
BIO 211 - Introductory Genetics
BIO 311 - Molecular Genetics
BIO 401 - Senior Seminar
Enduring Questions
RECENT PUBLICATIONS
Genetic analysis of potassium transport in the green alga Chlamydomonas reinhardtii. Molecular and General Genetics 261: 275-280.
PROFESSIONAL EXPERIENCE
Post-Doctoral Fellow University of Utah 1975 – 1976
Research Fellow Washington University 1976 – 1978
Wabash College 1978 – present