Music AT
WABASH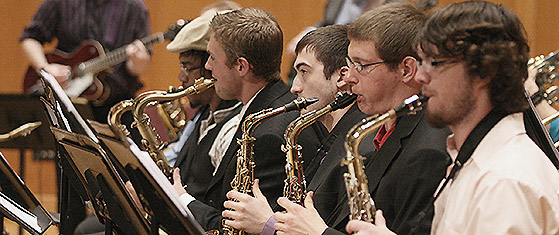 The Wabash music department emphasizes three broad aspects of music: theory, history and performance. Courses in all three areas serve students from a variety of backgrounds. Students choose music courses to satisfy distribution requirements, to enrich their ensemble experience or to pursue a music major or minor in the context of a liberal arts education.
Many majors and non-majors pursue special interests through independent study. A typical Wabash graduating class includes two to six music majors and approximately as many minors.
Some majors go directly to graduate school in music, whereas others begin graduate study in another discipline, take time off to gain work experience before beginning graduate work or enter the work force in a wide variety of careers.
The Music Department engages students at multiple levels through the theory of music on its own terms, the history of written music, the practice and performance of music, the anthropology of music around the world, and the technology of music analog and digital.
Each year the music department engages with theater and art to present a variety of performances for the Wabash and Crawfordsville community. The Fine Arts Calendar details this year's programs.
A WABASH MUSIC MAJOR COULD LEAD TO A CAREER IN PERFORMANCE OR OTHER FIELDS AS WELL. Recent Wabash music majors have pursued careers in the following areas. State Child Services Field team, Law Clerk, Senior Specialty Sales Professional, HS Teacher, COO, Accounting Associate, Chief Technology Officer, Supervisor, Fraternity Chapter Coordinator, Financial Services, National Fleet Manager, Multimedia Video & Graphics Designer