The Wabash Faculty AT
WABASH
The Wabash College Faculty
During the 2010-11 academic year, there were 80 full-time and seven part-time members of the faculty in 17 departments representing 22 major fields of study. Ninety-eight percent of full-time faculty have the highest terminal degree in their field.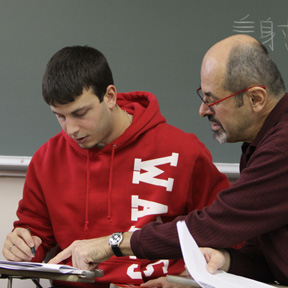 The faculty are committed to teaching as their primary task while remaining active and productive in their areas of scholarly endeavor. Wabash offers a competitive salary and benefits package, and substantial support for professional travel and faculty development. In particular, Byron K. Trippet professorships provide a substantial stipend for research in the first two years of teaching.
The education of undergraduate men, from the acquisition of knowledge and skills to the development of qualities of mind and character, is central to the mission of the College. The maintenance of an excellent faculty is crucial to that mission. For Wabash College, a community of teacher-scholars sustains excellence. Effective teacher-scholars support the mission of the College through excellent and innovative teaching, continued scholarship and creative work, and leadership in the life of the community.
First and foremost, faculty continuously achieve excellence in teaching in all its forms and settings, whether in lectures, in small group or individual discussions, in laboratory or studio work, or in office conferences. Wabash faculty are reflective about the processes of teaching and learning, annually assessing student outcomes, and improving their effectiveness as teachers. While faculty focus primarily on their own disciplines, their interests and abilities extend beyond a particular field, leading to involvement in all-college courses, co-curricular and extra-curricular activities, and the broader intellectual life of the College.
A Few Recent Rankings:
The National Survey of Student Engagement, based at Indiana University, cites Wabash as setting national benchmarks for student-faculty interactions.
The Princeton Review's 2012 Best 376 Colleges ranks Wabash 12th for Most Accessible Professors
The CIRP survey, based at UCLA, reports that more than 97 percent of Wabash seniors would choose Wabash all over again if possible. Such student satisfaction is based in large part on the faculty of the College.