Art
Current Exhibition Schedule
Eric Dean Gallery and Greg Huebner Gallery: 2018-2019 Exhibition Schedule
---
Fine Arts Center Wabash College
Friday, September 14 — Friday, December 7, 2018
Purgatory and Paradise
Xi Zhang
Eric Dean Gallery
Opening Reception: Friday, September 14, 4:30-6:00 pm, Eric Dean Gallery
Xi Zhang, Artist Talk: Friday, September 14, 12:10, Korb Classroom M120, Fine Arts Center, Wabash College
Description:
In Purgatory and Paradise, artist Xi Zhang attempt to awaken a viewer's compassion through sumptuous paintings featuring lonely figures in expansive and foreboding landscapes. As a transnational Chinese-born artist working in the United states, Zhang seeks to combine lovely Eastern and Western styles to convey profound narratives about the global human condition. As he explains:
One of the ways to reduce conflict in the world is to increase empathy. Empathy is not pity. Empathy involves cognitively and emotionally putting one's own self into another's circumstances, leading one to see what another sees and feel what another feels. Ideally, empathetic relationships lead to constructive communication and behavior.
Currently, there seems to be ongoing reporting of conflict and tragedy, as seen in the recent mass shootings and the death of Heather Heyer, who as killed while in protest against white nationalists. As an image maker, how can I reduce such conflicts? I do not want to simply lecture or express my anger toward the institutions or people who instigate these tragedies. During the Vietnam War, John Lennon said he could write a romantic song and make a fortune, or he could write a thought-provoking song that contributes to peace. By adopting Lennon's approach about sending ideas, I aim to make aesthetically stimulating paintings that pull people in and hold them through their message.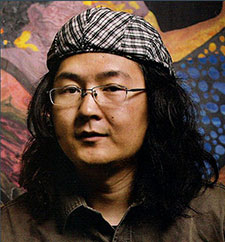 About the Artist:
Born in 1984 in Kaifeng, China, Xi Zhang completed his studies in painting at China's Beijing Institute of Art and Design. He moved to the United States to further his artistic training at Rocky Mountain College of Art and Design, where he received his BFA in painting in 2008. That same year, he was recognized by Denver Post art critic, Kyle MacMillan, as the "Emerging Artist of the Year" for his "well developed, surprisingly mature vision." Zhang receiving his MFA in painting from the University of Colorado at Boulder in 2011 and was soon recognized by the Denver Post as one of the "12 Best Colorado Artists Under 35."
Zhang's paintings have been featured in numerous prestigious exhibitions in the United States, China, and around the world, as well as on CNN, PBS, and NPR. His awards include: Celeste Prize in Painting (2017), John Moores Painting Prize (2016), Gold Award Winner in painting in the Art Forward Contest (2016), and Catherine Doctorow Prize in Contemporary painting (2015). Zhang is represented by PLUS Contemporary Fine Arts Gallery in Denver and Marc Straus Gallery In New York.
Wednesday, August 22 — Friday, November 30, 2018
Rudy Pozzatti: A Man in Search of Meaning
Greg Huebner Gallery
Opening Reception: Friday, September 14, 4:30-6:00 pm, Eric Dean Gallery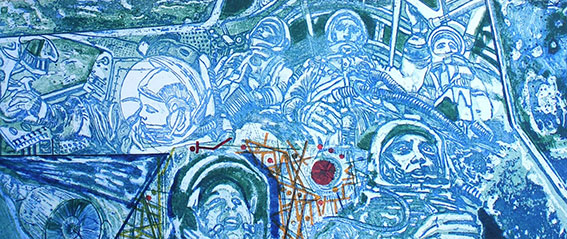 Description:
Rudy Pozzatti's quest for understanding has carried him across the globe on a journey to capture the essence of humanity in his masterful prints. This exhibit seeks to embody Pozzatti's vision of what we can learn from the past and present about our human nature and our own desires to explore and learn.
An Indiana treasure, Rudy Pozzatti is widely regarded as one of America's great printmakers. For over six decades, he has resided in Bloomington, where he helped build one of the most prestigious printmaking departments in the nation at Indiana University. The works featured in this show come from the Donald L. McMasters '53 Collection of Wabash College.
This exhibition is curated by: Deryk Benge '18, Derek Fox '18, Ezequiel Godinez '18, Preston Hadley '18, William Shaw '18, Dajon Thomas '18, and Robbie Wunderlich '18. It also features short documentary films about Pozzatti by: Kirby Cox '18, Zachary LaRue '19, Dallas Pitts '19, Johnathan Rodriguez '19, and Louis Sinn '19. Students are led by Dr. Elizabeth Morton, Chair of the Art Department at Wabash College.
SPRING 2019
Friday, January 18 — Friday, April 5, 2019
Blurred Boundaries
Amber Cobb
and
Edge of Alchemy
A Film by Stacey Steers
Eric Dean Gallery
Opening Reception: Friday, January 18, 6:00 - 8:00 pm, Eric Dean Gallery
Amber Cobb, Artist Talk: Friday, January 18, 12:10, Location TBD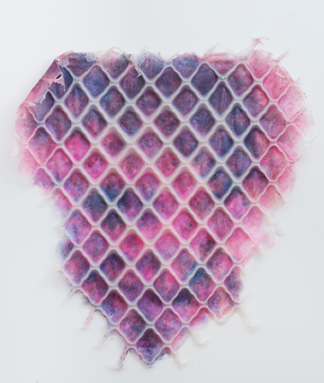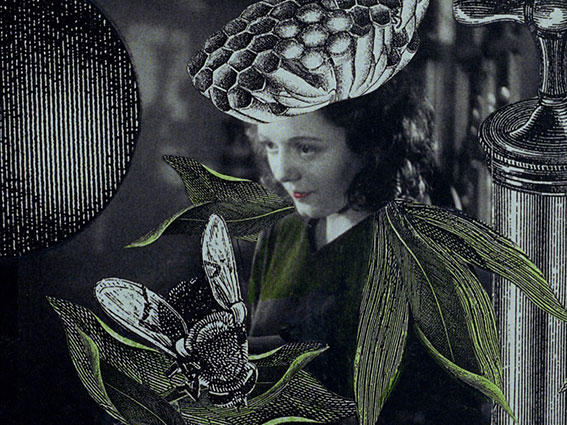 Description:

Blurred Boundaries - Amber Cobb examines the primal and sensual nature of sexuality, a familiar subject throughout her practice. The works in this exhibition address her intertwined relationship to the physical and psychological through abjection, attraction, and humor. The most recent series, features decorative patterns and softly draped forms that expose the spaces between a sweet kiss, hard grip, and violated flesh. Through a spectrum of color and texture, each work references the many phases of bruises from initial impact to healing. Other works feature Cobb's arsenal of materials: mattresses, stuffed animals, and bedding. Through a process of layering and abstraction, found objects morph into the human form, they are familiar yet strange. Finally, rubber biomorphic forms poke at the absurdity of gender roles and sexual innuendos, they are all at once titillating, hilarious, and offensive. Blurred Boundaries is both inviting and confronting, a collection of emotions calling the body into question.
Edge of Alchemy is the third film in a trilogy examining the psychological terrain of women's inner worlds. Stacey Steers spent five years creating this exquisite handmade film, assembled from over 6,000 collages. This surreal epic upends the Frankenstein story and features luminaries, Mary Pickford and Janet Gaynor, through clips from their early silent films. Music is by Polish composer Lech Jankowski and funding provided by The John Simon Guggenheim Foundation and Creative Capital Foundation.
Edge of Alchemy was featured at Telluride Film Festival in 2017 and was winner of the Grand Jury Prize for Best Experimental Film at the 2017 Nashville Film Festival and Peter Wilde Award for the Most Technically Innovative film at the 2017 San Francisco International Film Festival. In 2018, Stacey Steers was honored by a nomination to join the Academy of Motion Picture Arts and Sciences in 2018.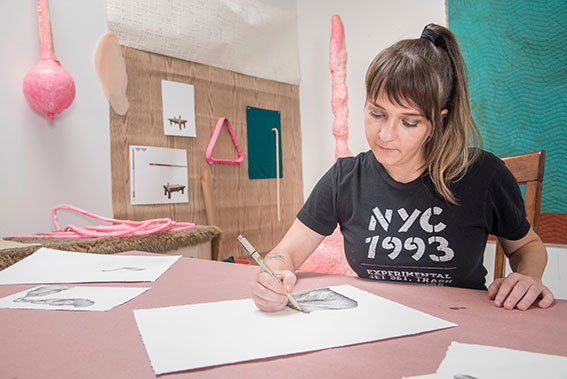 About Amber Cobb
Amber Cobb is a Colorado-based artist, living and working in the Denver area. In 2011 she received her M.F.A. in Sculpture from the University of Colorado at Boulder. Cobb has exhibited in a number of exhibitions both nationally and internationally. This includes Xiao Shan Xiao at the Hunan Province Art Museum in Kaifeng, China, Sweat Baby Sweat in Los Angeles, and Direct Connect in Berlin, and the Biennial of Americas. In 2014, Cobb was featured in New American Paintings, #114. She is represented by Gray Contemporary in Houston, TX and by Gildar Gallery in Denver, CO.
Friday, January 18 — Sunday, May 12, 2019
Visions of France: Drawings and Prints by Louis Orr (1877-1966)
from the David Orr '57 Collection
Greg Huebner Gallery
Opening Reception: Friday, January 18, 6:00 – 8:00 pm, Greg Huebner Gallery
Description:
To be Revised in Fall 2018
This student-curated exhibition features prints by Louis Orr (1877-1966) made while he was living in France. Orr is a renowned American printmaker and uncle of David Orr '57.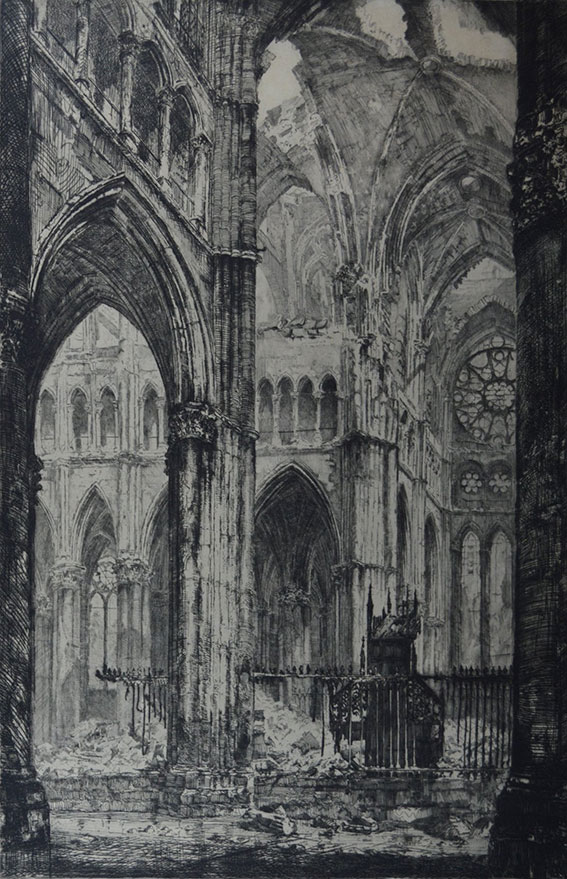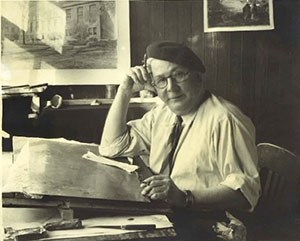 About the Artist
Louis Orr (1876 - 1966), uncle of David Orr '57, is one of America's great 20th century printmakers. Known for his master etchings of architecture and seaports, Orr's most renowned work was a print he made of the Cathedral of Reims in France in 1917. As an official artist of the French Army, he sketched the cathedral while it was being actively bombed by Germany during World War I. In 1919 he was honored by France with the title of Chevalier (knight) of the French Legion of Honor and in 1930, with the title of Officier. He lived and worked in France for much of his career.
Friday, April 19 – Sunday, May 12, 2019
Senior Art Majors Exhibition
Opening Reception: Friday, April 19, 4:30 – 6pm
Wabash senior art majors will exhibit their art works. The exhibit represents a final rite of passage for these talented men who have dedicated their academic focus to the visual arts.