Eric Dean Gallery and Greg Huebner Gallery
2022-23 Exhibition Schedule
---
Eric Dean Gallery
The Eric Dean Gallery is open for exhibitions Monday through Friday 9AM–5PM
Mezzanine/Radiant Sons

September 7 – November 30, 2022
Opening Reception: Wednesday, September 7, 4:00 – 5:30pm
Artist Lecture: September 7, 12:00pm, Korb Classroom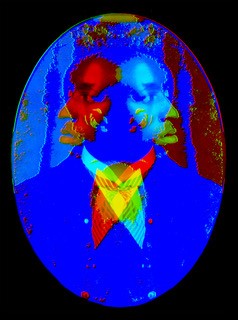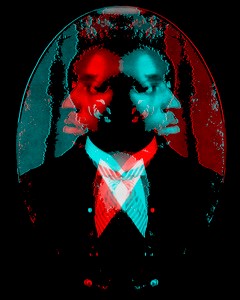 Antonio McAfee, Muse Studies (Crackling) #1 and #2, 16" x 20", Archival Photographic Print, 3D image with 3D Glasses
Artist Statement
"Wisdom of the past is typically re-evaluated in each generation and re-interpreted or adjusted where deemed desirable in the light of available options and altered circumstances"-Arnold Rubin from African Accumulative Sculpture: Power and Display
Operating with photography, video, sculpture, drawing, and collage, Antonio McAfee's work addresses the complexity of representation. Through appropriating and manipulating historical portraits, he engages in prescribed views of individuals and rework images to provide an alternate - more layered image and concept of the people depicted. His photographs oscillate between formal considerations (modifying the print's surface) and imaginary potential (establishing new backstories and roles) of the photographed sitter.
Throughout all McAfee's work, the primary concern is to depict visual and physical transformation, in which the superficial read of him and others are abstracted to render it unstable. This is an attempt to encourage a layered and tangled relationship with whom and what is visually offered. One way he addresses prescribed assumptions is to use historical narratives and portraits. Through using appropriating sources, there is a basis for understanding particular ideas and stories that are passed down and sustained.
The main source of the artist's portraits are family members that transitioned, funk icons, and studio portraits of middle-class African Americans from The Exhibition of American Negroes organized by W.E.B. Du Bois, Thomas Calloway, and Historic Black Colleges for the 1900 Paris International Exposition. The exhibition was a photographic, economic, and legislative survey of middle-class blacks in Georgia. Discussing her strong feelings for a photographic portrait of a Native American family, Lucy Lippard presents the phrase 'intersubjective time'. Despite all the differences between the family, photographer, and her - time (a century), ethnicity, gender, class, & etc. - she was able to develop a personal connection to the family that was rooted in how they were depicted. This urged her to conduct further research, which informed her of the specifics of their lives. This experience - and the quote at the top - are gestures and ideas kept close as Antonio creates work that rests in the past, gets filtered through his experiences and artistic practice, and is shared to an audience to offer something anew.
Artist Biography
Antonio McAfee is a photographer based in Richmond, IN. He received his BFA in Fine Art Photography from the Corcoran College of Art and Design. Shortly after, he earned his MFA in Photography from the University of Pennsylvania. He received a Post-Graduate Diploma in Art in Arts and Culture Management from the University of the Witwatersrand (Johannesburg, South Africa). McAfee's work addresses the complexity of representation by appropriating and manipulating photographic portraits of African Americans in the 19th century, funk and R&B musicians, and transitioned family members.
McAfee was featured in BmoreArt Magazine, Baltimore Magazine, The Washington Post, Washington City Paper, The Philadelphia Inquirer, Baltimore Sun, and catalogs published by the University of Pennsylvania and Corcoran College of Art and Design. He participated in residencies at Vis Arts (MD), Wesley Theological Seminary (DC), Elsewhere Museum (NC), The Contemporary Museum Artist Retreat (Baltimore), Can Serrat (Spain) and Vermont Studio Center.
Antonio was awarded grants from Foundation for Contemporary Art (NY), Art on the Vine (DC), Maryland State Arts Council, Civil Society Institute, Fulbright IIE, and Dedalus Foundation. His work has been exhibited at the Walters Art Museum, Kreeger Museum (DC), Institute of Contemporary Art (Baltimore, MD), Academy Art Museum (MD), Hamiltonian Gallery (DC), and The Print Center (PA). Antonio is currently a Professor at Earlham College.
---
ALL ROADS LEAD TO ROAM
HOESY CORONA
January 26 - April 7, 2023
Opening Reception: Thursday, January 26, 4:30 – 6pm
Lunchtime Artist Talk: Thursday, January 26, 12pm, Korb Classroom in FAC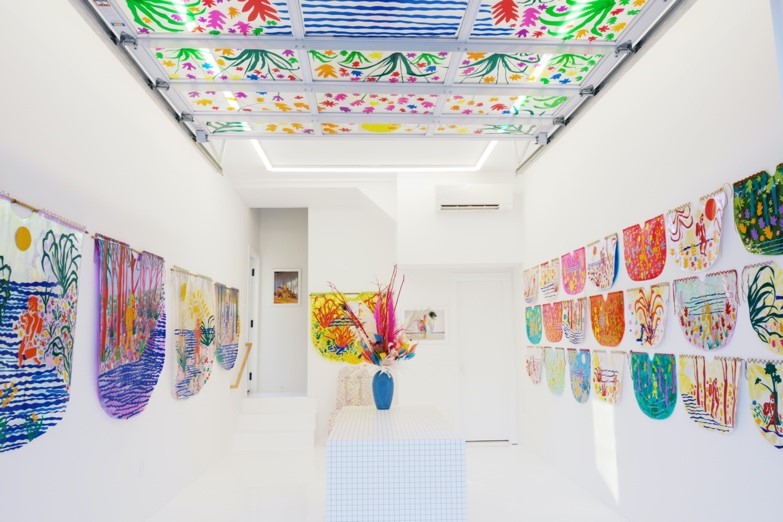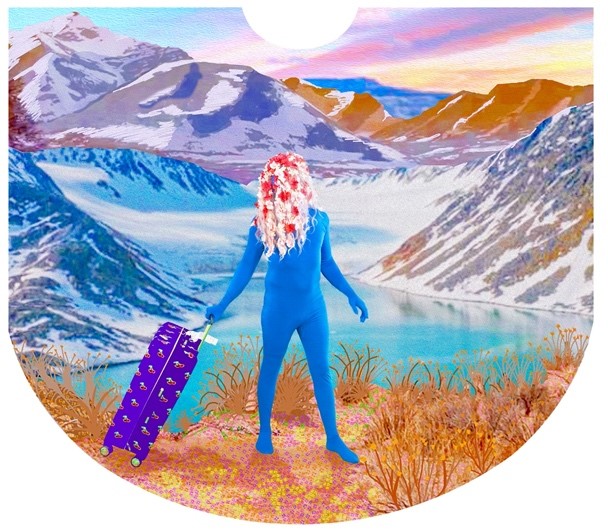 Hoesy Corona is a Queer, Latinx artist, who has been exploring climate migration in fabulated narratives in his work over the last decade. Hoesy Corona's work highlights the complex relationship between humans and the environment by focusing on our changing climate and its impact on habitation and migration patterns. Using the archetype of the traveler, who is seen holding suitcases and voyaging through a wide array of landscapes towards a better place, Corona tackles the reality of the human aspect of climate change while celebrating the lushness and vibrancy of flora, bodies of water, and geographic forms, and bringing attention to the multitudinous powers of nature.
All Roads Lead to Roam is the latest iteration of Corona's ongoing project Climate Immigrants (2017-present) a series that problematizes notions around both immigration and climate change to highlight one of the most pressing issues of our time: environmental displacement in relationship to U.S.-centric xenophobia. Implicating ideas of land, borders, and environmental racism in the face of raging fires, warming climates, and rising waters. In the gallery we are confronted with a series of large scale fiber vignettes that each picture a character journeying from a land made uninhabitable by the warming climate. The roaming figures pictured are obfuscated by body suits and headdresses that hide their identities from the viewer, echoing how dehumanization is weaponized in society to excuse the mistreatment of others. The prints on fabric, constructed from digital collages overlayed with staged performances-for-the-camera, are rendered full of hope despite the ominous scenes. The immersive, large-scale installation also features Corona's Climate Ponchos, which double as wearable sculptures. The intricately overlayed ponchos are cut from industrial, weatherproof vinyl or furnishing fabric materials and finished with leather cording woven through the edges. While their form recalls a simple rain poncho, the dynamic patterns on them tell colorful stories of migration and history depicting mundane scenes of mothers and other travelers on their journeys, ultimately humanizing the anonymous silhouettes.
---
2023 Senior ART Exhibition
April 22-May 13, 2023
Opening Reception: Saturday, April 22 4:30 – 6:00pm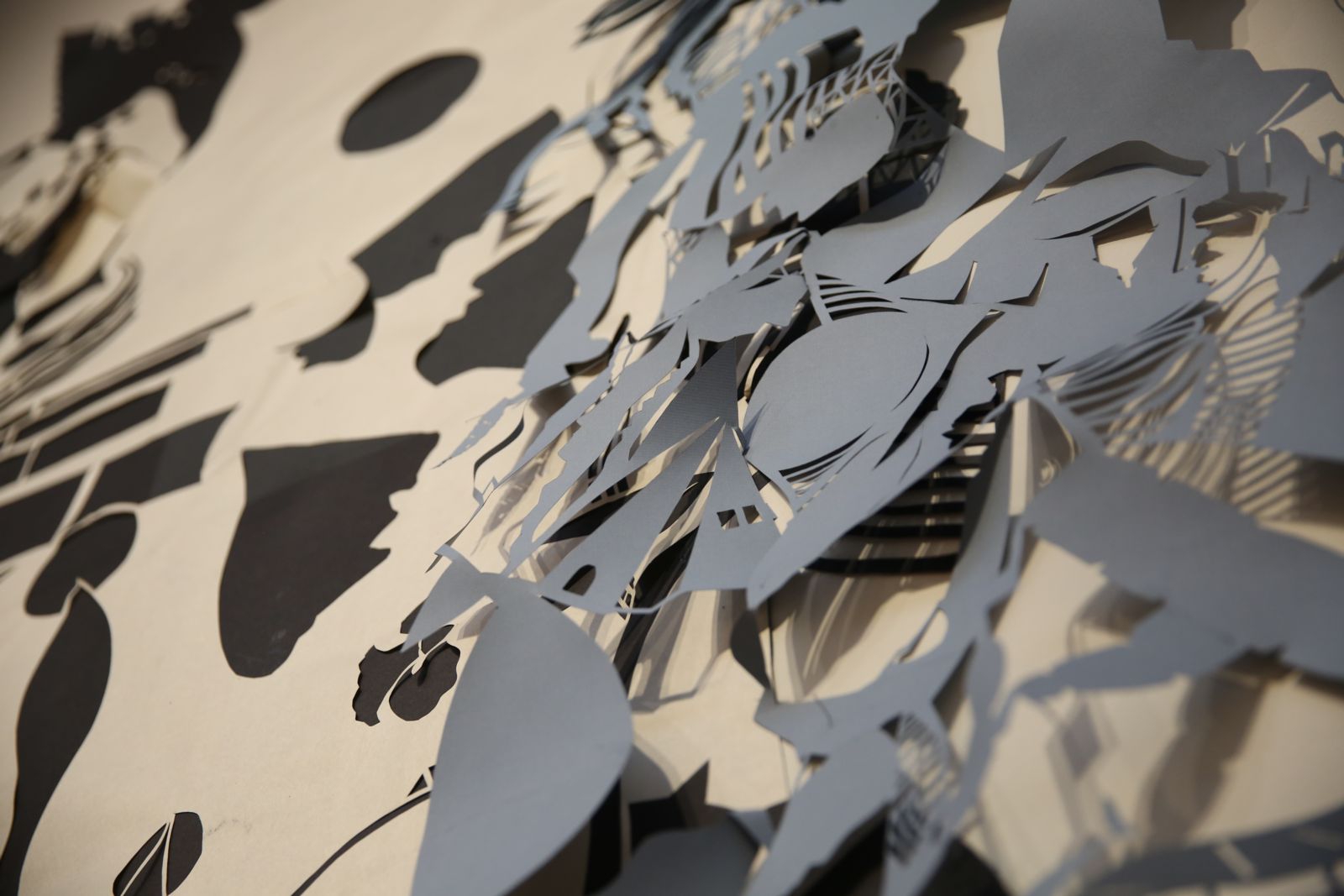 This exhibition is a critical final rite of passage for the talented artists who have dedicated their academic focus to the visual arts.