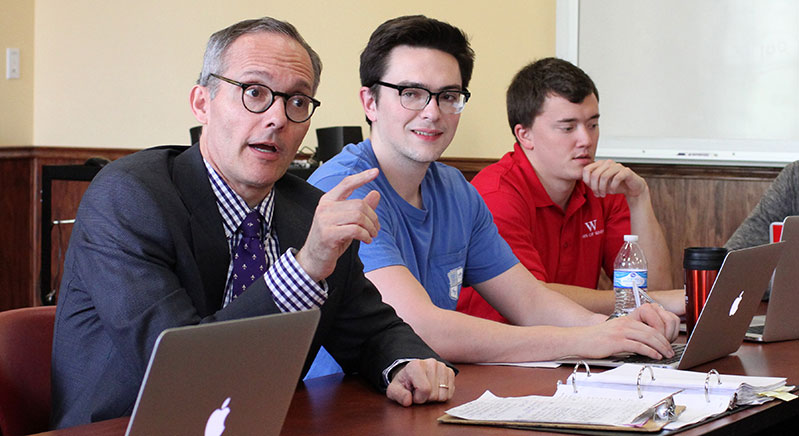 What is political science?
Aristotle called politics "The Queen of the Sciences," and knowledge of politics is important for all liberally-educated people. Wabash political science majors learn to analyze and interpret the significance of political events and governmental processes to understand, evaluate, and even shape them. Publicly engaged faculty provide broad exposure to four main areas of the discipline through their political science classes: American politics, Comparative politics, International politics, and Political theory. For specific course offerings, check out the full curriculum here.
Why go to college for political science?
By studying political science, Wabash students study the perennial questions of politics and learn how government works here and around the world. Understanding these inner workings of our governmental structure translates well to professional and public life after college. Many Wabash men seeking careers in political science are preparing for a career in law. For these students, Wabash offers a unique opportunity for future barristers with our annual Moot Court program, an excellent opportunity to engage in legal argumentation with training and support from fellow Wabash Alumni who are now practicing attorneys.
What can you do with a political science degree?
Many recent graduates have pursued a variety of jobs for political science majors after graduation: HR/Strategy, Attorney, Regional Vice President, Business Analyst, Mayor, Cloud Management Specialist, Business Development Manager, Assistant US Attorney, Senior Consultant, Analyst, Defense Strategy Consultant, Product Director, CEO, HS Teacher, Indiana Regional Manager, U.S. House Legislative Assistant, COO, Political Consultant, Corporate Strategy Manager, Branch Manager, Industrial Broker, Senior Vice President