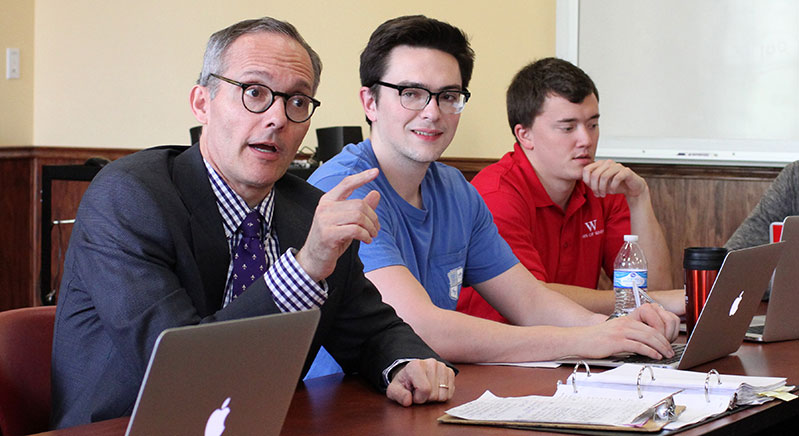 What is political science?
Political science asks important questions about how people are governed. For example, who gets to make political decisions for local communities, countries, and the world? How do they make these decisions and what are the consequences? How do different forms of government affect who is represented and how can those who aren't represented seek access to political power? What role do and should citizens play in politics and government?
Political science majors at Wabash gain insight into these questions by exploring how political leaders, political theorists, and political scientists have sought to answer them, conducting their own research, participating in hands-on projects and activities, and traveling around the United States and the world to observe politics first-hand and network with political leaders.
Political science classes at Wabash reflect the broad range of political science. They include training in research methodology and statistics and many topical courses in the four main areas of the discipline: American politics, comparative politics, political theory, and international relations. For specific course offerings, check out the full curriculum here.
Why go to college for political science?
Political science majors at Wabash learn to analyze and interpret the significance of political events and governmental processes to understand, evaluate, and even shape them. Through their study of politics, they become skilled observers and analysts, develop public speaking and written communication skills, and learn how to engage in society as effective citizens, advocates, and leaders.
The Wabash political science department and its publicly engaged faculty support many opportunities for students, including immersion trips, community-engaged learning, co-curricular activities, and funding for public service internships, research, and conference travel.
One way students can better understand how government operates is to participate in the college's Pre-Law Program. This program includes a number of professional development opportunities, including an annual Moot Court program where students practice arguing a legal case before lawyers and judges.
What can you do with a political science degree?
Anything! Recent graduates have pursued a variety of jobs for political science majors after graduation, as lawyers, teachers, diplomats, judges, journalists, TV producers, civil servants, consultants, business leaders, and CEOs. Some enter politics: One of Indiana's US Senators and the Attorney General are both political science majors from Wabash, not to mention a handful of state assemblymen. And others find work in other aspects of politics and government: as political advisors and analysts, ambassadors and admirals, public defenders and prosecutors, and intelligence officers and detectives.
Most of all, learning political science at Wabash teaches you how to think – which is why our majors have also gone on to be managers and leaders in every field from technology and finance to medicine and defense.