Physics
Facilities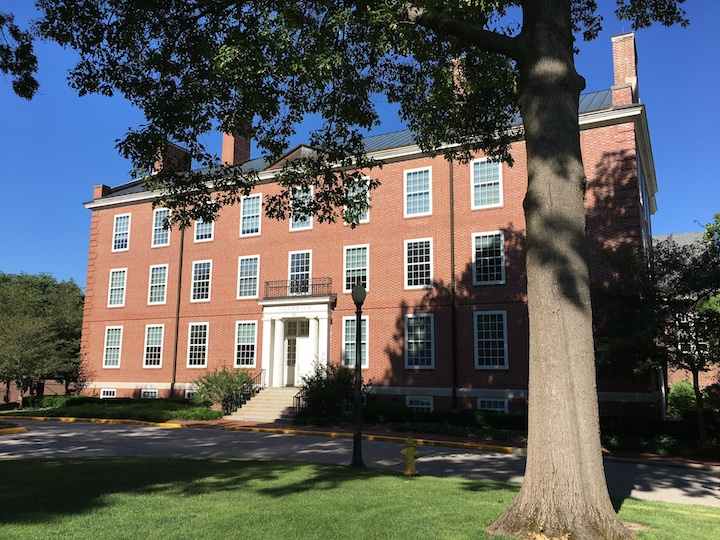 Thanks in part to its small size, the Physics Department has a number of fairly expensive, one-of-a-kind pieces of equipment. The laboratory setting supplements classroom instruction and breathes life into textbook theory. Special equipment includes: an X-ray diffraction machine, a neutron source available for use in the atomic and nuclear physics labs, a multi-channel analyzer, well-equipped optics lab, a photography darkroom, Mossbauer effect equipment, and an electronics laboratory. In addition, the department contains two laboratories equipped with Macintosh computers for use during introductory and advanced laboratory investigations.
Our Home
This is an exciting time for physics at Wabash. Not only has the department recently received a large grant to purchase new demonstration and laboratory equipment, but it has moved into a newly renovated building. The College recently invested $5 million to renovate Goodrich Hall, where Wabash students have studied math and science since 1938. In the renovated Goodrich Hall, students study in classroom and research environments designed by the faculty who use the spaces. Since methods of teaching science continue to evolve, the rooms in Goodrich have free-standing furniture so they can be easily utilized in new and unanticipated ways.
The basement of Goodrich houses two physics research labs along with a wood and metal shop. These research labs provide spaces where physics faculty can set-up equipment which is part of their long-term research efforts. Some research efforts continue for years before producing significant results; throughout the life of these types of projects, the department will have several different students participating in the computer simulations, theoretical developments, and data collection and analysis.
The Math Department boasts a computer classroom on the first floor of Goodrich. For several years, the department has used computers to teach mathematics. This new computer classroom has better sight lines, video equipment, arrangement of furniture, and possibilities for student collaborations than previous facilities. After class and in the evenings, students use the commons area on the first floor for discussing assignments, working on portable computers, and socializing.
The second floor contains offices for mathematics faculty along with two introductory physics labs. The introductory labs are used to make physics come alive for students through many different experiments and experiences. Notebook computers with a variety of sensors are used in these labs to acquire and analyze data from physical phenomena . To ensure that students receive personal attention, these labs have a maximum enrollment of 20 students.
The top floor of Goodrich houses the new top-notch digital electronics, modern physics, and junior/senior advanced laboratories. The electronics laboratory contains analog and digital workstations at which pairs of students experiments during lecture and laboratory periods.
Located on the roof of Goodrich is an astronomy observing platform. During an important celestial event such as a lunar eclipse, the observatory is not only be a boon for our students, but an attraction for everyone else on campus, as well as the Crawfordsville community.