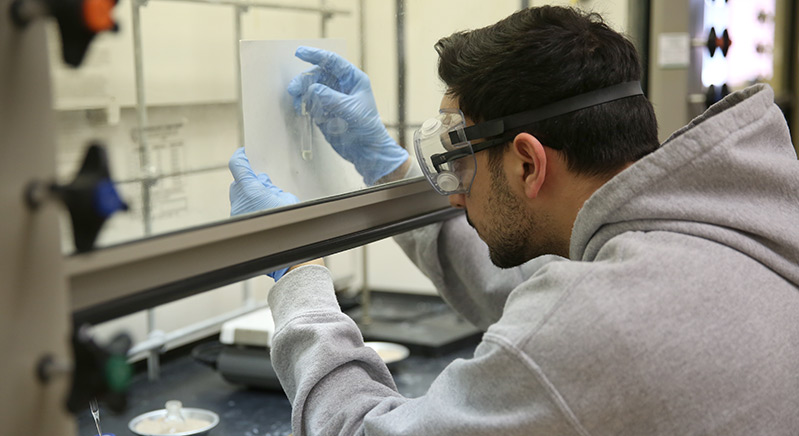 Biochemistry is the study of the chemical processes of living systems and the molecular basis for changes that occur in living cells. It focuses on the structures and functions of proteins, carbohydrates, lipids, nucleic acids, and other biomolecules, energy acquisition and use in cells and organisms, communication within and between cells, and regulation of these processes.
Over the last half century, biochemistry has emerged as a field distinct from chemistry and biology, yet it is still grounded in fundamental concepts from these fields. It encompasses medical, agricultural, and environmental issues, making it an attractive area of study for students.
The Biochemistry major prepares students for pre-health professions, graduate studies or employment in biochemistry. The Biochemistry major is based in the Chemistry Department, with substantial supporting work done in the Biology Department. Our classes feature small group work, and students use modern research equipment in the biochemistry laboratory.
The Haines Fund for the Study of Biochemistry
In 1999, Dr. William J. Haines '40 and his wife Wilma "Shorty" Haines endowed The William J. and Wilma M. Haines Fund for the Study of Biochemistry at Wabash College to support biochemistry research and teaching in the Wabash.
Wally Novak
, Ann Taylor, and Scott Feller have active research programs in biochemistry and biophysical chemistry in the Chemistry Department, and all of these faculty members regularly include undergraduate students in their research activities.
The annual
Haines Lecture in Biochemistry
features seminars and classroom visits by nationally recognized biochemists; it is made possible by the Haines Biochemistry Fund. Some former Haines Lecturers include:
· Roger Beachy, President of the Danforth Plant Science Center
· Ralph Yount '64, former president of the Biophysical Society and FASEB
· Sarah Keller, Avanti Young Investigator Award recipient
· Gyanu Lamichhane, '99, Esquire's Best and Brightest of 2007
Career Opportunities
Three-fourths of our Chemistry majors go directly to graduate school or medical school after Wabash. Others have chosen to take jobs in industry or to attend other professional schools (physiology, law, business). Some of our Chemistry majors who have pursued opportunities in biochemistry include:
—
Robert G. Roeder '64, Ph.D.
is Arnold and Mabel Beckman Professor and Head of the Laboratory of Biochemistry and Molecular Biology at The Rockefeller University. He is a member of the prestigious National Academy of Sciences.
— Tom Roberts '70, MD, Ph.D. is Professor of Pathology at The Dana-Farber Cancer Institute at the Harvard Medical School.
— Jonathon Allen '00, MD from Indiana University, won a 2002 AMA Foundation Leadership Award and now practices Emergency Medicine in Chattanooga, TN.
— Joe Trebley '01, Ph.D. is currently President/CEO/Founder-Monon Bioventures, Llc
— Taylor Poor '06 is an MD/PhD student at Northwestern University
— Jonathan O'Donnell '10 is an MD and Internal Medicine resident at Duke University Medical Center.