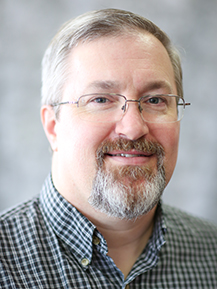 Jonathan Baer
ASSOCIATE PROFESSOR OF RELIGION
Jon Baer arrived at Wabash College in 2002. He teaches in the areas of American religious history, church history, Christianity and culture, anthropology and sociology, and new religious movements. His research has focused on American evangelicalism, particularly the holiness and Pentecostal movements, and the intersections of Christianity, health, and healing. He has been a fellow at the Center for the Study of Religion at Princeton University and currently serves as an associate fellow at the Center for the Study of Religion and American Culture at IUPUI. In 2008, in conjunction with a local church Prof. Baer first took a group of Wabash students to New Orleans to work rebuilding homes devastated by Hurricane Katrina. This volunteer effort has now spanned four spring breaks and included other faculty and more than 70 Wabash students, helping restore several displaced families to their homes.
When not at Wabash, Prof. Baer is likely spending time with his wife Carolyn and children Nathan, Christopher, and Noelle. He is a member of First Christian Church in Crawfordsville, where he is a deacon, has preached and led adult Sunday school classes, and chaired the Global Outreach committee. In his free time, he enjoys hiking with his family at Shades or Turkey Run, cheering on his children's athletic and musical exploits, following the Boston Red Sox, and pursuing an interest in investing.
EDUCATION
Ph.D. in Religious Studies, Yale University, 2002
M.Phil. in Religious Studies, Yale University, 1998
M.A. in Religious Studies, Yale University, 1995
M.Phil. in Social and Political Theory, Queens' College, University of Cambridge, 1990
A.B. in History and Political Science, Duke University, 1989
RECENT COURSE OFFERINGS
REL 181 - Religion in America
REL 172 - The Christian Church in the Modern Era
REL 272 - Christian Lives
REL 280 - Sects and Cults in America
REL 297 - Sociology of Religion
REL 298 - Anthropology of Religion
Freshman Tutorial - Indiana Writers and Literature
Cultures & Traditions
RESEARCH
Book Manuscript: Embodied Power: Faith Healing and the Birth of Pentecostalism in Modernizing America
The New Westminster Dictionary of Church History. Westminster John Knox Press. Forthcoming entries on James Davenport, Samuel Davies, Great Awakening, New Lights and Old Lights, and Michael Schlatter.
RECENT PUBLICATIONS
"Holiness and Pentecostalism." In The Blackwell Companion to Religion in America. Ed. Philip Goff. Malden, MA: Wiley-Blackwell, 2010, 569-86.
"Health, Disease, and Medicine." In The Encyclopedia of Religion in America. 4 vols. Eds. Peter W. Williams and Charles H. Lippy. CQ Press, 2010. V. 2: 954-65.