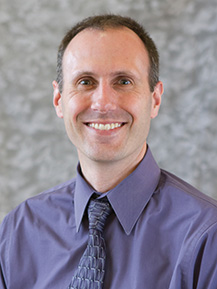 Preston Bost
PROFESSOR OF PSYCHOLOGY
I began teaching at Wabash in 2000, and have served as the chair of the Psychology department since 2007. My area of specialty is cognitive psychology, which employs controlled experimentation to study how people process information about the world around them – how they identify and use objects, navigate their environments, remember their histories, make decisions, solve problems, and make judgments about other people. This area of psychology is closely allied with neuroscience, an area of strength for our department. In addition to my general courses on cognitive psychology, I enjoy teaching about how the science of cognitive psychology can improve the administration of criminal justice – for example, through an understanding of eyewitness memory and jury decision-making.
In recent years, my students and I have been conducting research on the cognitive psychology of conspiracy theories. How do people adopt and hold on to beliefs that appear to contradict available forensic and documentary evidence? Such beliefs are surprisingly easy to acquire, highly resistant to change, and present in cultures all over the world – suggesting that they may derive from cognitive pitfalls that are natural to human thought. Two students and I recently published a manuscript suggesting that such beliefs may derive in part from a natural tendency to focus on the possible motive of the alleged conspirator, not just on available "hard" evidence.
Outside the classroom, you can find me playing any one of several sports – particularly volleyball, basketball, racquetball, and tennis – both in pickup games and for faculty intramural teams. I am a dedicated runner, participating regularly in the annual Indianapolis-Mini-Marathon along with several faculty colleagues. Students find that sports texts and analogies frequently find their way into my teaching. I am also a bit of an automotive and movie buff (movies I've seen recently and would recommend: The Social Network; Inception; The American).
Finally, I devote time to my wife, Biology professor Anne Bost, my eight-year-old daughter Emily, and our hyperactive one-year old dog Wilbur. Several times a year, we return to our roots in the Deep South, where we have family in Alabama and the Carolinas.
EDUCATION
Ph.D., Cognitive Psychology, Vanderbilt University, 1998
B.A., Psychology, Yale University, 1993
RECENT COURSE OFFERINGS
Psy 101: Introduction to Psychology
Psy 231: Cognitive Psychology
Psy 201/202: Research Methods and Statistics I and II
Psy 210: Psychology and the Legal System
Psy 223: Abnormal Psychology
Psy 331: Research in Cognitive Psychology
Psy 495/496: Senior Capstone in Psychology
Freshman Tutorial: The Automobile and American Culture
RECENT PRESENTATIONS
Bost, P.R., & Schmitzer-Torbert, N. "Reinvigorating the departmental review process." Idea Exchange accepted for the annual meeting of the National Institute for the Teaching of Psychology, St. Petersburg, FL, January 2008.
Bost, P.R. "Early and often: Using research experiences in introductory psychology to prepare students for the research methods course." Midwestern Psychological Society Annual Meeting, Chicago, IL, May 2005.
Bost, P.R., & Horton, R.S. "Using data collection to teach research methods in introductory psychology." Annual Meeting of the Society for the Teaching of Psychology, Atlanta, GA, October 2004.
Bost, P.R, & Bankart, B. A modular (inquiry-based) learning approach to introductory psychology. Annual Meeting of the American Psychological Society/Society for the Teaching of Psychology Teaching Institute, New Orleans, LA, June 2002.
Bost, P.R, & Bankart, B. A modular (inquiry-based) learning approach to introductory psychology. Midwestern Psychological Society Annual Meeting, Chicago, IL, May 2002.
RECENT PUBLICATIONS
(bold denotes undergraduate co-author)

King, D., & Bost, P.R. (in press) Sex role orientation at single-sex and coeducational colleges. Modern Psychological Studies
Bost, P.R, Prunier, S.G., & Piper, A.J. (2010) Relations of familiarity with reasoning strategies in conspiracy beliefs. Psychological Reports, 107, 593-602.
Holbrook, J.B., Bost, P.R. & Cave, C.B. (2003). The effects of study task relevance on perceptual repetition priming. Memory & Cognition, 31, 380-392. (co-first author)
Hickson, G.B., Pichert, J.W., Federspiel, C.F., Miller, C.S., Gauld-Jaeger, J., & Bost, P. (2002) Patient complaints as predictors of malpractice claims experience. Journal of the American Medical Association, 287, 2951-2957.
Cave, C.B., Bost, P.R., & Cobb, R.E. (1996). Effects of color and pattern on implicit and explicit picture memory. Journal of Experimental Psychology: Learning, Memory, and Cognition, 22, 639-653.