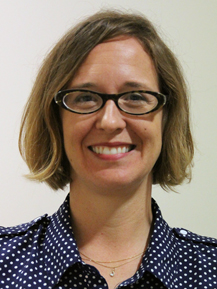 Adriel Trott
ASSISTANT PROFESSOR OF PHILOSOPHY, GENDER STUDIES PROGRAM CHAIR
Adriel M. Trott is an assistant professor in philosophy focusing on ancient, continental and political philosophy. Her work focuses on how ancient philosophy can be a resource both for diagnosing contemporary conceptions of political life, of being human, and of gender and for presenting alternatives to these accounts.
Trott is currently running the GLCA Ancient Philosophy Research and Teaching Collaborative Initiative which brings students and faculty in the GLCA together to share their research and to improve pedagogical practices in ancient Greek philosophy. Trott enjoys teaching philosophy of commerce for the business studies minor and introduction to gender studies for the gender studies minor. She is particularly interested in how philosophy can be brought to the public sphere. She blogs at The Trott Line. As an honorary member of the Malcolm X Institute for Black Studies at Wabash and the Chair of the Gender Issues Committee, Trott is happy to participate in and help foster conversations on campus about race and gender as they relate to cultivating inclusive community.
Trott is an avid runner and a native of Philadelphia.
EDUCATION
Ph.D., M.A. Villanova
B.A. College of William and Mary
RECENT COURSE OFFERINGS
PHI 218: Philosophy of Commerce
PHI 217: Philosophy of Race
GEN 101: Introduction to Gender Studies
PHI 240: Ancient Philosophy
PHI 349: Aristotle's Politics
RECENT PUBLICATIONS
Book Aristotle on the Nature of Community. Cambridge: Cambridge University Press, 2013.
Peer-Reviewed Articles "Ruling in Turn: Political Rule Against Mastery in Aristotle's Politics." Epoché: A Journal for the History of Philosophy. 17 (2013): 301?311.
"Rancière and Aristotle: Parapolitics, Party Politics and the Institution of Perpetual Politics." Journal of Speculative Philosophy. 26 (2012): 627?646.
"The Human Animal: The Rational and the Natural in Aristotle's Anthropology." Epoché: A Journal for the History of Philosophy. 16 (2012): 269-285.
"The Truth of Politics in Alain Badiou: 'There is Only One World." parrhesia: A Journal for Critical Philosophy 12 (2011): 82-93.
"Logos and the Political Nature of Anthrôpos in Aristotle's Politics." Polis: The Journal of the Society for Greek Political Thought. 27 (2010): 1-16.
"Toward a New Metaphysics: Difference in Irigaray's Reading of Plato's Cave." Philosophy Today 50 (2006): 22-30.
Book Chapters
"Badiou contra Hegel: The Materialist Dialectic Against the Myth of the Whole." Invited chapter to Badiou and Hegel, ed. Jim Vernon and Antonio Calcagno. Lanham, MD: Rowman & Littlefield, 2015. 59-76.
"Kicking the Hornet's Nest: The Hidden Section in Every Institution," in The Girl with the Dragon Tattoo and Philosophy: Everything is Fire. Hoboken, NJ: Wiley. November 2011. 155-165.