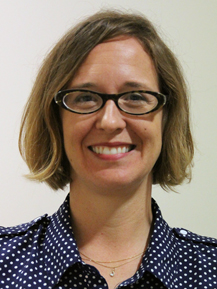 Adriel Trott
ASSISTANT PROFESSOR OF PHILOSOPHY, GENDER STUDIES PROGRAM CHAIR
Adriel M. Trott is an assistant professor in philosophy focusing on ancient, continental and political philosophy. Her recent book, Aristotle on the Nature of Community (Cambridge 2014), argues that an emergent conception of nature in Aristotle's Politics contributes to an open conception of community, one defined by an activity that moves like natural things from within themselves to fulfill themselves. Trott finds in ancient Greek philosophy provocations that remain pressing today, questions about what it means to be human, what it means to be good, what it means to know, and how we use nature as a ground and justification for how we live. She further pursues this conception of open community in the work of Alain Badiou in several articles includingone in the Badiou and Hegel anthology forthcoming from Lexington Books. Her other philosophical influences and interests include Hannah Arendt, Michel Foucault, conceptions of sovereignty, critical race theory, feminist theory and the history of philosophy.
Trott is currently running the GLCA Ancient Philosophy Research and Teaching Collaborative Initiative which brings students and faculty in the GLCA together to share their research and to improve pedagogical practices in ancient Greek philosophy. Trott enjoys teaching philosophy of commerce for the business studies minor. She is particularly interested in how philosophy can be brought to the public sphere. She taught a course that encouraged students to blog about contemporary public issues and she blogs at The Trott Line [link to www.adrieltrott.com]. As an honorary member of the Malcolm X Institute for Black Studies at Wabash and the Chair of the Gender Issues Committee, Trott is happy to participate in and help foster conversations on campus about race and gender as they relate to cultivating inclusive community.
Trott is an avid runner and a native of Philadelphia.