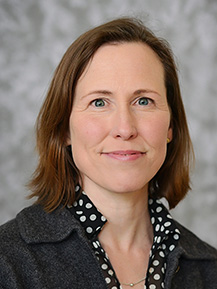 Bronwen Wickkiser
THEODORE BEDRICK ASSOCIATE PROFESSOR OF CLASSICS, DEPT CHAIR
Bronwen Wickkiser is a specialist in ancient Greek history and culture, especially the intersection between religion and medicine. Her first book explores the appeal of healing deities in relation to the rise of Hippocratic medicine (Asklepios, Medicine, and the Politics of Healing in Fifth-Century Greece), while her current book project looks at performance, architecture, and acoustics in Greek sanctuaries as they relate to music therapy. At Wabash, Wickkiser enjoys teaching courses related to these topcis, such as Ancient Greek Religion & Magic and Health Care in the Greco-Roman World. Recently, she has been delving into ways that modern culture receives the ancient past, a field known as Classical Reception.
A passionate proponent of study abroad, Wickkiser enjoys taking students to Greece and Italy and is eager to explore with Wabash students the culture of neoclassicism right here in Crawfordsville (the "Athens of Indiana"), from the Lew Wallace Study to war memorials and burial monuments. Currently, she teaches courses on Greek and Latin language and literature, and on the history and culture of Greece. She plans to lead an immersion course to Greece in spring 2018 for Wabash students.
Wickkiser serves on the Managing Committee of the American School of Classical Studies in Athens (Greece), and has received research fellowships from the National Endowment for the Humanities, the American School of Classical Studies at Athens, and the Loeb Classical Library Foundation.
She is an avid rower who has trained and competed in national regattas. If you take her Freshman Tutorial on the Odyssey, chances are that you'll visit the Indianapolis Rowing Center on beautiful Eagle Creek and learn the art of rowing.
EDUCATION
BA, Oberlin College (major: Latin; minor: Religion)
MA and PhD, University of Texas at Austin (Classics)
RECENT PRESENTATIONS
"Materiality and Performance in Fourth-Century Cultic Paeans: The Case of Epidauros," Materiality, Representation, and Performance in Archaic and Classical Greek Poetry, University of Edinburgh, June 20-21, 2017.
"The Music of Architecture and the Therapy of Sound in a Greek Healing Sanctuary: the Thymele at Epidauros," 12th Annual Paul Rehak Symposium on Ancient Art, University of Kansas, March 2017.
"Teaching Ancient Medicine: A Gateway," Roundtable discussion, co-led with Yurie Hong (Gustavus Adolphus College), Society for Classical Studies Annual Meeting, Toronto, Jan 2017.
"Healing, Space, and Musical Performance in Late Classical Greece," Archaeological Institute of America lecture, Milwaukee WI, Sept 25, 2016.
"Commemoration, Conflict, and the Classical Tradition: The Confederate Memorial at Arlington National Cemetery," Workshop in Ancient Mediterranean Studies, University of Wisconsin—Milwaukee. Sept 23, 2016.
"From Zeus to Zika: A Quick Tour of Epidemic Disease from Antiquity to the Present," National Junior Classical League Convention, Bloomington IN, July 29, 2016.
RECENT PUBLICATIONS
Recent Articles
"Cupid's Arrows: Lead, Gold, Magic and Medicine in Ovid, Met. 1.452-567." Mnemosyne.
"The Iamatika of the New Milan Posidippus." Classical Quarterly 63.2 (2013) 623-32.
"IG II2 4963 and the Priesthood of Asklepios in Athens." Zeitschrift für Papyrologie und Epigraphik 179 (2011) 123-5.
"Communicating with the Gods in Ancient Greece: Acoustics and the Design of the Thymele at Epidauros," Peter Schultz and Bronwen Wickkiser, International Journal of Technology, Knowledge and Society 6.6 (2010) 143-64.
Books
Aspects of Ancient Greek Cult II: Architecture, Sacred Space, Sacred Objects. Edited with J. Jensen, G. Hinge, and P. Schultz. Copenhagen: Diomedes. Forthcoming.
Aspects of Ancient Greek Cult: Context, Ritual and Iconography. Aarhus Studies in Mediterranean Antiquity 8. Edited with J. Jensen, G. Hinge, and P. Schultz. Århus: Århus University Press, 2009.

Asklepios, Medicine, and the Politics of Healing in Fifth-Century Greece: Between Craft and Cult. Baltimore: Johns Hopkins University Press, 2008.
Web Page
The Thymele of Epidaurus: A Harmonics of Healing
www.thymeleofepidaurus.co.uk
HONORS AND AWARDS
McLain-McTurnan-Arnold Research Scholar Grant, Wabash College, "Circularity, Spectacle and Performance: Fourth-Century Tholoi and the Changing Landscape of Greek Ritual," 2016-17.