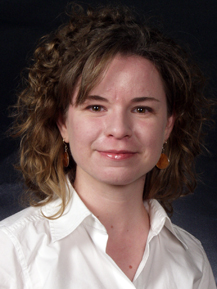 Amanda Ingram
ASSOCIATE PROFESSOR OF BIOLOGY, DEPT CHAIR
Amanda Ingram joined the Wabash College faculty in 2004. Prof. Ingram's research interests lie in plant systematics, which involves the study of plant evolution and classification. Her work is currently focused on understanding the evolution of the lovegrasses, a group of approximately 400 species of grasses in the genus Eragrostis that are morphologically, anatomically, and ecologically diverse. She employs a variety of approaches to learn about these plants, including field work to collect material and explore the species' distribution and ecology, and a range of laboratory techniques (e.g., DNA sequencing, anatomical study) that allow her to gather characters with which to build evolutionary trees. Her work on Eragrostis has taken her to many exotic locales, including recent collecting trips to Namibia, South Africa, and Tanzania.
Prof. Ingram is a native of Virginia's Shenandoah Valley, and so tries to find as many excuses as possible to travel to places with mountains in her spare time. She also enjoys playing music (and can occasionally be seen in performance on campus and around town), tending her urban farm, and sampling her husband's award-winning homemade beers.
EDUCATION
Ph.D. in Plant Biology, Cornell University
B.S. in Biology and Environmental Science, The College of William & Mary
RECENT COURSE OFFERINGS
BIO 101—Human Biology
BIO 102—Plants and Human Affairs
BIO 111-112—General Biology I & II
BIO 224—Biology of Vascular Plants
BIO 351—Evolution of Populations
BIO 401—Senior Seminar (Polyploid Genome Evolution)
RECENT PUBLICATIONS
Grass Phylogeny Working Group II. 2012. New grass phylogeny resolves deep evolutionary relationships and discovers C4 origins. New Phytologist 193: 304-312.
Ingram, A.L., P.A. Christin, and C. P. Osborne. 2011. Molecular phylogenies disprove an hypothesized C4 reversion in Eragrostis walteri (Poaceae: Chloridoideae). Annals of Botany 107 (2): 321-325.
Ingram, A. L. 2010. Evolution of leaf blade anatomy in Eragrostis (Poaceae). Systematic Botany 35 (4): 755-765.
McKain, M. R., M. A. Chapman, and A.L. Ingram. 2010. Confirmation of the hybrid origin of Eupatorium x truncatum (Asteraceae) using nuclear and plastid markers. Castanea 75 (3): 381-387.
Ingram, A. L. and J. J. Doyle. 2007. Eragrostis (Poaceae): monophyly and infrageneric classification. Monocots: Comparative Biology and Evolution, Poales, J.T. Columbus, E. A. Friar, J.M. Porter, L.M. Prince, and M.G. Simpson (eds), pp.595-604.
HONORS AND AWARDS
National Science Foundation research grant: "Collaborative Research—Branching in Chloridoid Grasses: Phylogeny and Inflorescence Diversification" to J. Travis Columbus (Rancho Santa Ana Botanic Garden) and A. L. Ingram.
Know Indiana faculty-student research grant: "Floristic Survey and Vegetation Monitoring at Walnut Fork Wildlife Refuge" to A. L. Ingram and Grahm Johnson.
National Science Foundation Dissertation Improvement Grant.
Botany Genetics Section award for Best Poster (Sprint: a new family of MITEs in Uniola paniculata)
National Science Foundation Graduate Research Fellowship