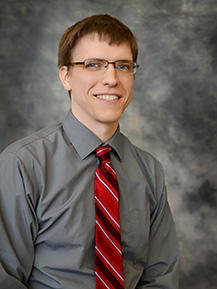 Bradley Carlson
BKT ASSISTANT PROFESSOR OF BIOLOGY
My research and teaching interests include ecology, zoology, animal behavior, and evolution. Most of my research focuses on two related questions: why do animals differ from each other in phenotypic traits, and what are the ecological consequences of these differences? I've emphasized behavioral diversity within species ('animal personality'), but I also explore variation in other traits – such as body size and shape – and differences between species. I'm especially interested in how natural enemies affect and respond to diversity in the behavior, morphology, and physiology of their prey. I primarily examine these questions in two groups of organisms: 'herps' (amphibians and reptiles), and arthropods (especially scorpions). For example, I've studied behavioral variation in tadpoles and their interactions with predators, the effects of morphological variation on locomotion in newts, and sex differences in aggression in scorpions. I'm also interested in studies of natural history on poorly-described species, supporting our capacity to protect them and their habitats as well as furthering basic science. Interested students can become involved in many aspects of my research, including field work, experimental ecosystems, behavioral observations, physiological analyses, and morphometrics.
Outside of the academic setting, I enjoy spending time with my wife and daughter, especially hiking and camping. I also enjoy nature photography, and I'm slowly trying to develop competency in woodworking.
EDUCATION
Ph.D. in Ecology, The Pennsylvania State University, University Park, PA, May 2014
B.S. in Biology, Bethel University, St. Paul, MN, Dec 2008
RECENT COURSE OFFERINGS
BIO 112 – General Biology
BIO 213 – Ecology
BIO 221 – Comparative Vertebrate Anatomy
BIO 313 - Advanced Ecology
BIO 401 – Senior Seminar
Freshman Tutorial: Monsters
RECENT PRESENTATIONS
Carlson, BE. 2016 "Morphological constraints on sprint performance as drivers of anti-predator behavior in scorpions". Invited symposium speaker in Locomotion and Kinematics: From joints and legs to whole-body performance symposium at International Congress of Arachnology. Golden, CO.
Carlson, BE. 2016. "The status of the Eastern Box Turtle population at Allee Woods, Indiana, and the behavioral ecology of personality in Box Turtles." Box Turtle Conservation Workshop. Urbana, IL.
Carlson, BE. 2015. "A tadpole is not a tadpole: Why every animal is different, and why it matters?." DePauw University. Greencastle, IN.
Carlson, BE, and T Langkilde. 2014. " Pervasive effects of size variation in tadpoles on pond communities." Society for Integrative and Comparative Biology Annual Meeting. Austin, TX.
Carlson, BE, and T Langkilde. 2013. "Ecological causes and consequences of variation in tadpole behavior." Ecological Society of America Annual Meeting. Minneapolis, MN.
Carlson, BE, and T Langkilde. 2013. "Behavioral variation among tadpole populations: ecological causes and consequences." Society for Integrative and Comparative Biology Annual Meeting. San Francisco, CA
RECENT PUBLICATIONS
Carlson, BE, and T Langkilde. In press. The role of prey in microgeographic variation in Red-spotted Newt (Notophthalmus v. viridescens) head width. Journal of Herpetology.
Carlson, BE, CJ Thawley, and SP Graham. 2016. Natural History of the Valley and Ridge Salamander (Plethodon hoffmani): Demography, Movement, Microhabitats, and Abundance. Herpetological Conservation and Biology 11:315-327.
Carlson, BE, and WS Parker. 2016. Resurrected records: "new" reptile occurrence records for Montgomery County, Indiana. The Journal of North American Herpetology 2016:19-22.
Carlson, BE, JC Newman, and T Langkilde. 2015. Food or fear: hunger modifies responses to injured conspecifics in tadpoles. Hydrobiologia 743:299-308.
Carlson, BE, Williams*, J, and Langshaw*, J. 2014. Is synchronized ecdysis in wild rat snakes (Pantherophis alleghaniensis) linked to humidity? Herpetology Notes 7:471-473.
Carlson, BE, and T Langkilde. 2014. Predation risk in tadpole populations shapes behavioral responses of prey but not strength of trait-mediated indirect interactions. Oikos 123:1519-1527.
Carlson, BE, McGinley, S, and MP Rowe. 2014. Meek males and fighting females: sexually-dimorphic antipredator behavior and locomotor performance is explained by morphology in bark scorpions. PLOS ONE 9: e97648.
Brossman, K, Carlson, BE, Stokes, A, and T Langkilde. 2014. Eastern newt (Notophthalmus viridescens) larvae alter morphological but not chemical defenses in response to predator cues. Canadian Journal of Zoology 92:279-283.
Carlson, BE, and T Langkilde. 2014. No evidence of selection by predators on tadpole boldness. Behaviour 151:23-45.
Carlson, BE, and T Langkilde. 2013. Personality traits are expressed in Bullfrog tadpoles during open-field trials. Journal of Herpetology 47: 378-383.
Brossman, KH, Carlson, BE, Swierk, LN, and T Langkilde. 2013. Aquatic tail size carries over to the terrestrial phase without impairing locomotion in eastern red-spotted newts (Notophthalmus v. viridescens). Canadian Journal of Zoology 91:7-12.
Carlson, BE, and T Langkilde. 2013. A common marking technique affects tadpole behavior and predation risk. Ethology 119:167-177.
Carlson, BE and MP Rowe. 2009. Temperature and desiccation effects on the antipredator behavior of Centruroides vittatus (Scorpiones: Buthidae). Journal of Arachnology 37:321-330.