Home
Facilities
Current Facilities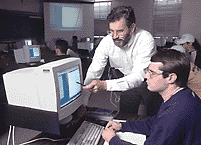 Computer classroom. In 1994 the department applied for and received an ILI grant from the National Science Foundation to design and implement a dedicated classroom for the department. The result was a combination classroom-laboratory in Baxter 214 with sixteen computers, fifteen for students and one for the instructor, and seating for thirty students. The room is named in honor of Paul Mielke, professor of mathematics at Wabash from 1946 to 1985. All sections of calculus and pre-calculus have all of their meetings in this room, as do a number of other courses, including distribution courses for non-science majors.
The design of the room allows for a wide variety of teaching modes. The instructor can combine traditional lecture with computer demonstrations. Students can work individually or in groups of two or three, while the instructor circulates among them answering questions and making comments. The computers, while always accessible, do not take up valuable desk space, nor do they block students' view of the board. There is ample chalkboard for the entire class to work drill problems at the board. Furthermore, students and instructor can move easily and quickly from one mode to another.
The primary software used in calculus is Mathematica, but the computers are also equipped with a variety of other software for work in statistics, geometry, and computer programming, and this software is available in the other computer labs around campus. The computers are linked to the College network, enabling instructors to develop materials in their offices for use in class by students or for demonstration. Open in the evenings, this room is available for students to work on homework and it is the site of our mathematics tutoring service, part of the Quantitative Skills Center.
As we have incorporated more use of computers into our courses, the use of this room has increased to the point where it is scheduled nearly every class period. We need, and are looking forward to, additional similar space.
Advanced classes are usually small, and make use of technology as appropriate. In addition to the room described above, there are four computer laboratories on campus, which can be reserved for these classes when needed.
---
Future Facilities
New facilities for science and mathematics. The College is in the midst of a construction project that will result in a new building for biology and chemistry and a renovated Goodrich Hall (completely new interior) for mathematics, computer science, and physics. The highlight of the construction, at least from our perspective, will be an attractive, centrally located departmental commons room, a place where students and faculty can gather to work and relax. Similar rooms in other mathematics departments have been instrumental in building and maintaining departmental unity. The plans also call for two classrooms similar to Baxter 214. One of these will be in the new biology and chemistry building, which we will share with those departments. The other will be in Goodrich Hall, and will house the evening tutoring. The renovation will also include offices with a bit more space than most of us currently have, in order to accommodate frequent interaction between faculty and small groups of students. All classrooms and the commons room will be wired for computers, giving small classes and individuals more access to technology.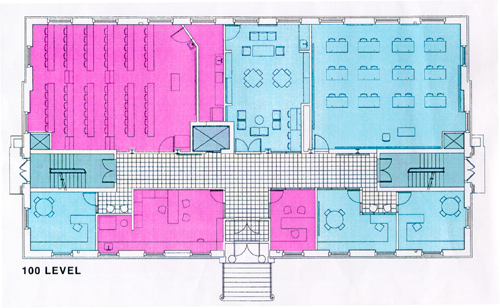 First floor plan for renovated Goodrich Hall. The commons room (top center) will be the first thing one notices when entering the building by the front door. One of the two new computer classrooms is adjacent to the commons room (upper right). This room will be open in the evenings for students to work on homework and to receive tutoring. The rooms along the front of the building on this floor are (lower left to right) faculty office, secretary's office and workroom, office for summer interns or departmental guests, and two more faculty offices. A large lecture room (upper left) completes the first floor. This will be used for large physics classes, and is where the Mathematics and Computer Science Colloquium will be held. The remaining departmental faculty offices are on the second floor, along with a small computer lab for upper-level computer science courses and physics labs.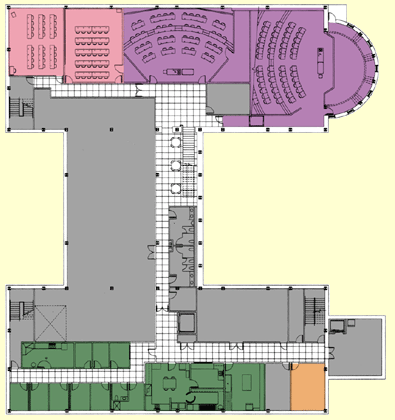 Lower level floor plan of new building. The larger of the two new computer classrooms, which we will share with the biology and chemistry departments, is at the upper center part of this diagram.