Chemistry
Facilities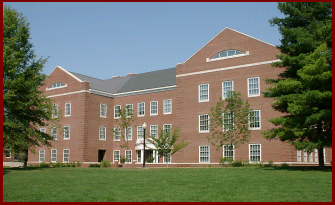 Our 80,000-square-foot biology and chemistry building, dedicated on September 19-20, 2003, provides flexible teaching spaces, research laboratories located directly across from faculty offices, and a number of small, public gathering places designed to encourage students to work together in informal groups. View photos of our science equipment.
The building includes the following:
1,100 data outlets
Integrated labs
Balance and instrument rooms
Laser lab
Superconducting 400 MHz NMR spectrometer
Greenhouse
Two molecular labs
Cold and Warm rooms
An animal facility
Reading room overlooking the Fuller Arboretum
The Department boasts of a fine collection of "standard" instrumentation, such as a diode-array UV-Vis spectrophotometer, an FTIR spectrometer, a scanning UV-Vis spectrophotometer, a spectrofluorimeter, two gas chromatographs and two modular HPLC systems. A central theme of our curriculum is that students have hands-on use of all Department instruments. See pictures of Wabash students in various chemistry labs.
Instruments which are not routinely found in chemistry departments in other small colleges include:
A 400 MHz multi-nuclear, super-conducting Fourier Transform nuclear magnetic resonance (FT-NMR) spectrometer for use in teaching and research.
A fully-equipped laser spectroscopy laboratory, featuring a pulsed Nd:YAG laser system and a high resolution Raman spectrometer system, used to study the structures and dynamics of transition metal complexes.
A GC/Mass Spec (gas chromatograph with quadrupole mass spectrometer detector) for analysis of complex mixtures.
Two 96-well plate readers, capable of doing fluorescence and kinetic analysis.