Chemistry
Scholarships & Awards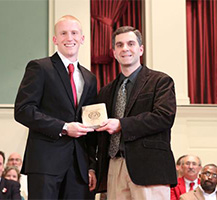 THE ANGUS SCIENTECH AWARD is made possible by the DJ Angus-Scientech Foundation, and goes to a student in recognition of excellence in science, mathematics, or social sciences who has shown exceptional improvement in academic performance over the last year.
THE EDGAR C. BRITTON AWARD is a cash award given annually to a senior chemistry major selected by the Chemistry Department faculty for his promise in graduate study. The award was established in memory of Edgar C. Britton, who attended Wabash as a member of the Class of 1915.
THE LLOYD B. AND IONE HOWELL SCHOLARSHIP ENDOWMENT FOR CHEMISTRY MAJORS was established in 1948 by former students of Dr. L. B. Howell and his wife. The Scholarship is awarded to an upperclass chemistry major.
THE UNDERWOOD AWARD is presented annually to the junior chemistry major who, in the opinion of the department, is most deserving. The cash award was established by Mr. J. E. Underwood, Jr., in memory of his mother and of his father, class of 1911.
More information on financing your Wabash College education.