Type
Private, independent, four-year liberal arts college for men, granting Bachelor of Arts degree.
Location
Crawfordsville, Indiana, a community of 16,100 located 45 miles northwest of Indianapolis and 150 miles southeast of Chicago.
Endowment
As of March 31, 2022, the value of Wabash's endowment was approximately $398 million.
Financial Aid
Approximately 99 percent of students receive some form of student aid.
Tuition and Fees
For the 2022-2023 academic year, tuition is $46,600. Room and Board is $13,150 (19 meals/week), books are $800 (estimated), the required Student Activity Fee is $475, and there is a $400 Student Health Center Fee.
---
Accreditation
Wabash College is accredited by the Higher Learning Commission.
Wabash College is authorized by name in the State of Indiana. Complaints may be filed with the Indiana Commission for Higher Education.
---
Governance
The Wabash College Board of Trustees, chaired by Jay R. Allen '79, meets on campus three times each year. Trustees are elected to four-year terms; members of the National Association of Wabash Men elect six Alumni Trustees, who serve not more than two four-year terms.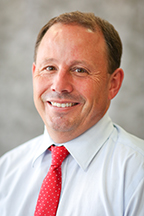 President Scott E. Feller
Dr. Scott E. Feller was elected the 17th President of Wabash College by the Board of Trustees in May 2020 and formally took office on July 1, 2020.
President Feller is a widely cited chemistry researcher, an award-winning teacher, and former Dean of the College at Wabash.
He joined the Wabash faculty in the chemistry department in 1998 after earning his B.A. from Willamette University and his Ph.D. from the University of California-Davis. He received the McLain-McTurnan-Arnold Excellence in Teaching Award in 2009. As an administrator at Wabash, Dr. Feller has served as Department Chair, Division Chair, and Dean of the College. Over the course of his tenure, he has hired or conducted tenure or promotion reviews of over 80 percent of the current Wabash faculty. He led efforts to add new majors in Computer Science; Philosophy, Politics, and Economics (PPE); and a number of interdisciplinary minors. For more information, go to President Feller's web page.
---
The Wabash College Campus
The 92-acre wooded campus contains more than 60 buildings predominantly of Georgian architecture. Caleb Mills taught the first class of Wabash students in 1833 in Forest Hall, located since 1965 at the north end of campus and now home to the Teacher Education Department. Built in 1836, Caleb Mills' House hosts various college functions. Also built in 1836 was Hovey Cottage, home to the College's second faculty member Edmund O. Hovey. Download a map of campus.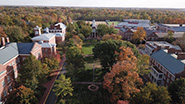 For those yet to visit, we present a virtual tour of essential campus locations. This tour "visits" the major buildings and most important landmarks, spotlighting academic buildings, athletic facilities, and cultural spots.


The Fine Arts Center includes three art galleries, studios, the 275-seat Salter Concert Hall, a dozen individual practice rooms for musicians, and the 360-seat Ball Theater. The Detchon Center for Modern Languages and International Studies, housed in an expanded and renovated campus landmark built in 1893, is a state-of-the-art facility.

During the Campaign for Leadership, Wabash built Hays Hall, the $30 million home of the biology and chemistry departments; renovated Goodrich Hall, which is home to the mathematics and computer science and physics departments; built the $2 million Malcolm X Institute for Black Studies; and built the $20 million Allen Athletics and Recreation Center. In addition, all ten College-owned fraternities were either built new or renovated during the Campaign for Leadership.
Seven new student housing living units opened in 2016. The $23 million investment provides students with many options on room size and configuration.
A new 3,300-seat Little Giant Stadium was constructed in 2020. The state-of-the-art facility is home to the Wabash football and track and field teams.
---
More Facts and Figures
Students
Wabash's 840 male students (Fall 2021) come from 32 states and 16 foreign countries; 75% are from Indiana. The entering first-year class in Fall 2021 had an average high school GPA of 3.86 and an SAT range of 1150 (25th percentile) to 1320 (75th percentile). Each year, approximately 250 freshman students enroll.
Faculty
In 2021-22, 99 percent of the full-time faculty members at Wabash hold a Ph.D. or equivalent terminal degree. Wabash's special strength lies with a faculty dedicated to teaching undergraduate students.
Student/Faculty Ratio
Wabash maintains a student/faculty ratio of 9:1 and 75 percent of all course sections have fewer than 20 students.
Majors and Minors
Wabash offers 27 majors in the following areas: Art, Biology, Biochemistry (major only), Chemistry, Classics, Computer Science, Economics, English, Financial Economics, French, German, Greek, Hispanic Studies (major only), History, Humanities (major only), Latin, Mathematics, Music, Philosophy, Philosophy, Politics, and Economics (PPE) (major only), Physics, Political Science, Psychology, Religion, Rhetoric, Spanish, and Theater. Minors are offered in the subjects listed above (unless otherwise noted) plus Business, Black Studies, Education Studies, Environmental Studies, Film and Digital Media, Gender Studies, Global Health, and Neuroscience, Students may double major and participate in dual-degree programs in Engineering with Purdue University, Columbia University, or Washington University (St. Louis) and a pipeline program in Accounting with the IU Kelley School of Business.
Library Collections And Services
Lilly Library, built in 1959, was renovated and expanded in 1992. Resources from the Goodrich Chemistry Library were integrated into Lilly in the summer of 2000. The holdings include more than 434,460 book and periodical bound volumes; 5,530 current periodical titles; and a media collection of over 11,151 recordings, CD's, videos and other media.
Both in the library and on the campus network students have access to periodical indexes and the online catalog of the 2.7 million volumes of Wabash and the 24 other private colleges and seminaries that are part of the Private Academic Library Network of Indiana (PALNI). Additional off-campus resources available electronically from the Library web site (library.Wabash.edu) encompass a wide range of specialized subject indexes and abstracts, full-text journal and information databases, and the OCLC international database of 37.5 million volumes in over 30,000 libraries around the world.
The Library also features the Goodrich Seminar Room on its second floor, which was funded by Pierre Goodrich. This grand gathering place provides Wabash students with a practical tool for understanding and interpreting the historical evolution of the idea of individual liberty. Click here to take an online tour of the Goodrich Room.
The Educational Technology Center, located on the main floor of Lilly Library, is dedicated to supporting teaching and learning at Wabash College by assisting with the instructional design and educational technology needs of the faculty, staff, and students. The ETC provides the Wabash community with a variety of multimedia equipment for preparing projects and presentations for the web and other digital formats. It provides production assistance, training classes, short-term equipment checkout and technical support for multimedia projects. We have industry-standard equipment, software and the technical knowledge required to assist you with current delivery methods such as digital video production, paper-based materials, web pages, DVD and CD technologies. The Media Center manages the College's YouTube channel.
Robert T. Ramsay, Jr. Archival Center, located in the library lower level, contains the records of the College, including catalogs and yearbooks, student publications, fraternity files and other related materials that document Wabash's history, along with several special collections.
Computers
More than 380 systems are dedicated for students. Six public computer labs are available; two labs are open 24 hours/day, and two others are open from 8am-2am. Departmental and specialized computer labs include a digital media lab; language lab; two calculus labs; a molecular modeling lab; art and music labs; two social science labs; and six mobile wireless computing labs for chemistry, biology, physics, and art. Software includes Microsoft Office, Mathematica, SPSS, Adobe Creative Suite, computer programming languages, and a variety of course-specific applications. An innovative "virtual computer lab" system offers access to network resources and lab software from student personal computers, whether on or off campus. A gigabit ethernet network links all campus systems, and a 1Gb circuit provides high-speed Internet access. Wireless networking access is available campus-wide, including in dormitories and fraternities.
Housing
Wabash students choose from a wide range of housing options — eight independent residence halls, 10 national fraternities, and College-owned houses that include two townhomes. Freshmen, sophomores, and juniors are required to live in campus housing. Doing so helps students adjust to the rigors of academic life, provides opportunities for social events and intramural sports, and allows students to build friendships that will last a lifetime.
Fraternities — Beta Theta Pi, Delta Tau Delta, Kappa Sigma, Lambda Chi Alpha, Phi Delta Theta, Phi Gamma Delta, Phi Kappa Psi, Sigma Chi, Theta Delta Chi, and Tau Kappa Epsilon.
Residence Halls — College Hall, Martindale Hall, Morris Hall, Placher Lodge, Rogge Hall, Williams Hall, and Wolcott Hall. Rogge Hall and Williams Hall opened for the first time in January of 2016. Martindale Hall was completely renovated in 2016.
Sports
Wabash competes at the NCAA Division III level in 13 varsity sports — baseball, basketball, cross country, football, golf, indoor track and field, outdoor track and field, lacrosse, soccer, tennis, swimming, volleyball, and wrestling — as a member of the North Coast Athletic Conference. More than three-quarters of Wabash students participate in at least one intramural sport and almost half of all students are varsity athletes.
Extracurricular activities
Wabash students take part in more than 70 recognized clubs and organizations. Among them: student government; radio station; departmental clubs; political clubs; speech, music, and theater groups; various literary publications; special interest groups; and religious groups.
Automobiles
There are no restrictions regarding student automobiles.
Graduates
A majority of Wabash students enter graduate or professional school within five years of graduating from Wabash. Each year, approximately 25-30 percent of Wabash graduates enroll in graduate and professional schools, including about 8-10 percent in medical and law schools and about 20 percent enroll in other graduate arts and sciences programs. Among those entering the work force, 31 percent begin careers in business, while nine percent work in government, social service, or teaching. One hundred percent of the Class of 2021 was placed in their first destination within six months of graduation (the national average is 59%).