The 16th President of Wabash College
About Wabash
The 16th President of Wabash College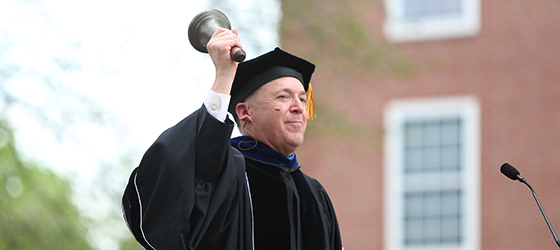 Gregory D. Hess, the 16th president of Wabash College, is in his fifth year after his election on July 1, 2013.
Wabash is The Liberal Arts College for Men, and its mission is "to educate men to think critically, act responsibly, lead effectively, and live humanely."
Dr. Hess has thoughtfully articulated the value of a liberal arts education for men, while leading the College through strategic planning processes that will shape the course of the institution through its 200th anniversary in 2032.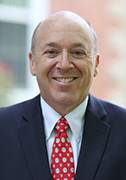 He has launched four co-curricular "Liberal Arts Plus" initiatives in Democracy and Public Discourse, Digital Arts and Human Values, Global Health, and the Center for Innovation, Business, and Entrepreneurship.
He has led Wabash through extensive assessments of every administrative office on campus, and produced the College's first comprehensive Campus Master Plan. In August 2016, the College completed a $23 million investment in student housing, including 130 beds in six buildings in the Residential Life District and a massive renovation of the College's flagship residence hall, Martindale.
Under his leadership, the College has eclipsed $3 million for its Annual Fund in every year of his presidency, and more than 43% of alumni made a gift to the Annual Fund in fiscal 2018. He led an 18-month effort to plan the course of philanthropy for Wabash over the next 15 years. He also established ad hoc committees for Campus Life and Fraternity Housing, and ushered the College into a long-term Campus Master Planning process, which will examine all aspects of campus and academic life as well as infrastructure.
In 2014, President Hess hosted a national conference, Celebrating the Value of the Liberal Arts, which attracted scholars, presidents, foundation leaders, and experts from business, medicine, and law from across the country.
Dr. Hess serves on the board of directors of the Independent Colleges of Indiana, Great Lakes Colleges Association, Indiana Chamber of Commerce, the Economic Club of Indiana, and the NCAA Division III President's Advisory Group.
Prior to his tenure at Wabash, Dr. Hess was Dean of the Faculty and Vice President of Academic Affairs at Claremont McKenna College at Claremont, California.
In addition to his role as Dean of the Faculty at Claremont McKenna, Dr. Hess was the James G. Boswell Professor of Economics and a George R. Roberts Fellow. In that role, he oversaw all aspects pertaining to academic affairs, including the curriculum, the Center for Global Education, the Center for Innovation and Entrepreneurism, athletics, institutional research, student learning outcome assessments, and information technology.
A native of San Francisco, he earned his bachelor's degree with high honors from the University of California-Davis, and his master's degree and Ph.D. in economics from The Johns Hopkins University.
Dr. Hess has also held teaching positions at Carnegie Mellon University, the University of Kansas, St. John's College (Cambridge), the University of Cambridge, London Business School, and Oberlin College.
Outside the academy, Dr. Hess has previously worked as an economist for the Board of Governors of the Federal Reserve; as a consultant for Honda Motors of North America; and as a member of the Ohio Governor's Council of Economic Advisors. He has served as a Visiting Scholar at the Federal Reserve Banks of San Francisco, St. Louis, Cleveland, and Kansas City, the Bank of Japan, Korea University, the IMF Institute, and the Hoover Institution. He has been a member of the Shadow Open Market Committee since 2002.
Dr. Hess is a widely published author with more than 60 books and articles to his credit, and has served as an editor for Economics and Politics and Macroeconomic Dynamics. He has been invited to make more than 90 scholarly presentations and seminars around the world. His academic specialties include monetary policy, macroeconomics, and the economics of national security.
He and his wife, Lora, are the parents of two daughters, Abigail (a graduate of Wellesley) and Meredith (a graduate of Davidson).

prezhess@wabash.edu
President's Office
Center Hall 108
765-361-6221
Curriculum Vitae
---
Follow President Hess on Twitter at: @PrezHess