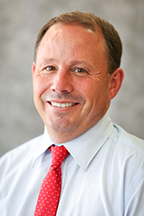 Dr. Scott E. Feller
17th President of Wabash College
(765) 361-6221
president@wabash.edu
Room 108, Center Hall
The Wabash College Board of Trustees elected Scott Feller, Ph.D., to serve as the 17th President of Wabash College. Dr. Feller, who served as Dean of the College at Wabash from 2014-2020 and as Professor of Chemistry since 1998, was elected by unanimous vote during the Trustees' meeting May 16, 2020.
"Wabash has been fortunate to have Scott and his wife, Wendy, on our team for over 20 years, and I have personally experienced firsthand the attributes that make Scott the best-qualified person to be our 17th president," said Jay R. Allen '79, Chair of the Board of Trustees.
Dr. Feller has spearheaded the College's ongoing efforts to expand its academic footprint, focus on student success, and improve operational effectiveness. Under his leadership and with a range of innovative retention initiatives, the College boasted a record-high four-year graduation rate in 2019. He and President Hess helped secure funding to launch the Wabash Liberal Arts Immersion Program, which has dramatically improved the retention and graduation of students from disadvantaged backgrounds.
"I am humbled by the trust the Board has placed in me and look forward to continuing all of the good work underway at the College," Dr. Feller said. "The beauty of the strategic objectives we laid out seven years ago is that they are timeless and they exemplify our mission: we focus on the intellectual and personal development and success of each and every Wabash student. I have been excited to be a part of this work and look forward to continuing it in my new role."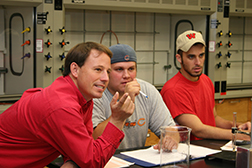 In addition to his position as Dean of the College, Dr. Feller is the Lloyd B. Howell Professor of Chemistry. He joined the Wabash faculty in the chemistry department in 1998 after earning his B.A. from Willamette University and his Ph.D. from the University of California-Davis. He received the McLain-McTurnan-Arnold Excellence in Teaching Award in 2009.
As an administrator at Wabash, Dr. Feller has served as Department Chair, Division Chair, and Dean of the College. Over the course of his tenure, he has hired or conducted tenure or promotion reviews of over 80 percent of the current Wabash faculty. He led efforts to add new majors in Computer Science; Philosophy, Politics, and Economics (PPE); and a number of interdisciplinary minors.
"Scott brings together keen analytical expertise and strategic insights with a broad and deep understanding of the key drivers of long-term success for outstanding liberal arts colleges like Wabash," added Mr. Allen. "Combining these skills with his warm, down-to-earth personality; his ability and eagerness to engage with students, faculty, staff and alumni; and his deep understanding of and passion for the history and culture of Wabash College, perfectly positions Scott to be our next president and an outstanding leader of the Wabash community."
Dr. Feller becomes the first Wabash President to rise from the ranks of the faculty and administration since Byron K. Trippet, the College's ninth president, who served from 1956 to 1965.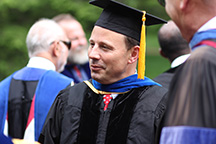 As a scientist and researcher in physical chemistry, Dr. Feller is the author of 76 peer-reviewed publications with over 9,000 citations; has given more than 50 invited scientific lectures; and has taught and mentored at least 15 undergraduates who later earned Ph.D.s. He has won national awards from the Biophysical Society, Eli Lilly/Indiana University, Dreyfus Foundation, Food and Drug Administration, and National Science Foundation.
Dr. Feller is a reviewer for more than 25 journals and foundations. His work has received significant and ongoing support from the National Science Foundation, as well as the National Institutes of Health and Dreyfus Foundation, and he has received student success grants from the Andrew W. Mellon Foundation and the Indiana Commission for Higher Education.
What others are saying about President Feller
Gregory D. Hess, 16th President of Wabash — "Scott Feller has been an exceptional Dean of the College these past six years. He has set a thoughtful tone, brought a sharp analytical approach to every challenge we have wrestled with, and he has been a great listener to all members of our community. He has been a key partner in all the success we have achieved, and he has my 100% trust and confidence to lead our Great College boldly into our third century."
Raymond B. Williams, Ph.D., LaFollette Distinguished Professor in the Humanities, Emeritus — "Scott has been an outstanding teacher, researcher, faculty leader and Dean of the College throughout his time at Wabash. His personal and professional excellence and his winsomeness garner enormous respect from students and colleagues. Scott represents the best of those who have served Wabash with distinction since I was appointed to the faculty by President Byron Trippet over 55 years ago, just before he retired. In my mind's eye, Byron Trippet walked across campus lifted several inches above the ground, held up by the respect and adulation of Wabash faculty, students and alumni."
James A. Davlin '85, Trustee, Retired Vice President and Treasurer, General Motors — "We are fortunate to have Scott Feller as a professor, administrator, and colleague at Wabash. In my experience working with Scott, he is exceptionally smart and hard working, and a very creative thinker. He also works well with others, and has demonstrated breadth and capability far beyond his academic competencies. In his time as Dean, Scott has achieved excellent results in admissions and retention, in the financial operations of the College, and had meaningful influence in all areas beyond the scope of his role. He is a thoughtful, inspirational, and a caring leader. I have every expectation that Scott will be one of the great Presidents in Wabash history, and we are fortunate to have him in the role."
Mauri A. Ditzler '75, Ph.D., President, Albion College, Former Dean of the College at Wabash — "Wabash is a special and unique place. As such, it is unusually important that a new leader be familiar with the intricate details and traditions of the College. I was impressed with how quickly Scott, as a young professor, immersed himself in all aspects of our academic and student experiences. When I was Dean of the College, I pointed to Scott as a role model for what it meant to be immersed in the College and local community. More recently, I have enjoyed watching Scott excel in that role I held years ago. He brings the right spirit, experience, and talents to the presidency."
Marc Nichols '92, President of the National Association of Wabash Men — "When I became president of the National Association of Wabash Men, a dear friend reminded me of a quote by famed author Douglas Adams. 'Anyone who is capable of getting themselves made President should on no account be allowed to do the job.' I still chuckle every time I think about that moment. Of course, leadership is about sacrifice for the greater good of the institution. Anyone willing to step into such a role deserves our great respect, an extended hand when the need arises, and, in my less charitable moments when I think of my 'friend' who quoted Adams, I think 'better friends.' President Feller, the National Association honors you with great respect for stepping into this leadership role, we offer our hand to assist where we can, and assure you that you have no better friends. Welcome to this new role, and for the sake of the College we love, we wish you continued success."
Joseph Trebley '01, Ph.D., CEO, Scioto Biosciences, Inc. and President, Monon Bioventures, LLC — "Dr. Feller is one of my favorite people to see when I'm back on campus. Dinners, football games, poster sessions, alumni events… It seems like he's always there, because he is. He's always there with a welcoming smile on his face and ready to engage in thoughtful conversation. His presence is easy and un-hurried, which is remarkable considering how busy he is. He talks about all that is going on at the College with a focused passion that is contagious. His selflessness and humility make you feel like you are not only a part of, but responsible for all of the success. He makes us all better, but will always give us the credit. We are lucky to be the community he has chosen to serve."
Jane E. Hardy, Ph.D., Associate Professor of Spanish and Chair of Modern Languages and Literatures — "I have been fortunate to work with Scott Feller in his roles as Chair of Division I and as Dean of the Faculty. Scott operates with grace and humility. He is a rational and objective decision maker, but he makes decisions with compassion, never losing sight of the impact on individuals. Sometimes a dean has to make decisions based on information that cannot be made public. I never question his judgment in these circumstances, as I know from experience that he will do what is right and fair. Scott prioritizes faculty development in its many forms, and he has been a vocal advocate for immersion learning, providing generous support for both faculty and students for international travel and research."
Michael Abbott '85, Professor of Theater — "Scott is a peerless consensus builder. He brings a pragmatic, but compassionate approach to problem-solving. He listens with genuine openness. He isn't threatened by uncertainty. He has the patience of a farmer. When the decision is made, I know he arrived there through careful, deliberate thought. In the end, it's never about Scott. It's about what's best for the College."
Dr. Todd D. Vogel '04, MD, Neurosurgeon, Grand Rapids, MI — "What made Professor Feller phenomenal to a student and young alumnus was that he always took time to answer my questions and then he was able to translate it into a bigger context to give it greater meaning."