Tau Kappa Epsilon — 515 West Wabash Avenue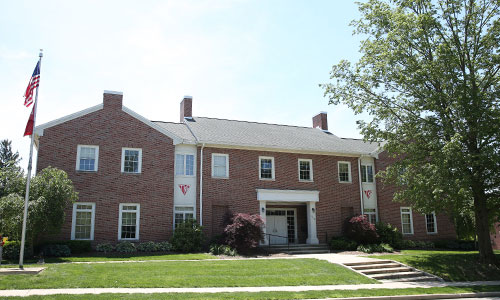 The Alpha-Alpha Chapter of Tau Kappa Epsilon was founded in 1927 and re-chartered in 1967. In 2008, we moved into a newly built house at 515 West Wabash Avenue.
The first racially integrated fraternity on campus, the Alpha-Alpha chapter has maintained a tradition of diversity. The current membership includes men from all over the world. Diversity persists in the interests of Tekes and their involvement on campus, participating in many clubs like College Republicans and Democrats, Parliamentary Union, Alpha Phi Omega, Episcopal Prayer and Fellowship, sh'Out, and the Sphinx Club. TKE has consistently placed high among fraternities in house cleanliness and has recently obtained highest GPA among all fraternities and fraternity freshman.
At Tau Kappa Epsilon, Wabash men come together to share ideas and experiences that can be found nowhere else. The rich diversity of the people within the house has been a cornerstone in the house's development to where it stands today. Come check us out at 515 W. Wabash Avenue. Become part of the growing legacy that is Tau Kappa Epsilon.
At its 2011 International Conclave, the Alpha-Alpha Chapter at Wabash won four awards of distinction: Excellence in Recruitment; Excellence in Involvement – Alumni Relations; Excellence in Achievement – Academic Success; and Excellence in Achievement – Extracurricular Activities (more than 50% of members are involved in campus or community organizations).
Tau Kappa Epsilon Leadership
Francisco Jimenez--President fajimene24@wabash.edu
Notable Alumni
Dean Reynolds '70, CBS Evening News Correspondent
Bob Kachur '87, Imagery Analyst, Central Intelligence Agency
Michael Prunier '72, Research Scientist, Eli Lilly & Co.
Frank Sellke '78, Interim Chief, Harvard Medical School
Jack Tandy '79, Shelby County Superior Court Judge
Jim Rusnak '95, Publishing Coordinator, USA Swimming
Steve Fox '69, Foreign Service Officer, US Department of State
Also, see: Wabash Tau Kappa Epsilon