Lambda Chi Alpha — 515 West Jennison Street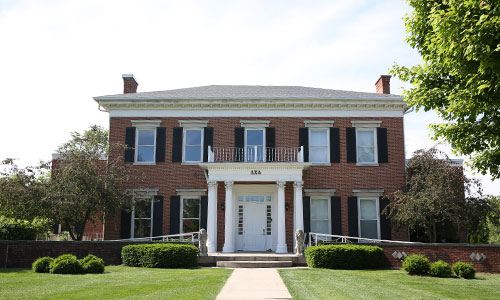 Alpha Kappa Zeta of Lambda Chi Alpha was founded in 1918 on the Wabash campus. Since then, we have initiated 1,446 brothers. We have a rich history of academics, athletics, and extracurricular activities, and continue to be very competitive academically on campus as well, maintaining a house GPA within the top three living units. Not only are we one of the largest fraternities on campus, we are a house of leaders. Brothers and associates are active in Student Senate, Newman Center Catholic club, Society of Physics Students, Unidos por Sangre, AMPED, and Alpha Phi Omega. We also have seven members of the Sphinx Club as well as several captains of Wabash athletics teams.
We have brothers who perform exceptionally in swimming, track, baseball, basketball, football, rugby, the wind ensemble, the jazz band, the glee club, Wamidan, Spanish club, the biology society, and the chemistry club.
Contributing to the Crawfordsville community, the brothers of Lambda Chi Alpha frequently volunteer at the local Boys and Girls Club and our local animal shelter. We also provide canned goods through the Lambda Chi Alpha national food drive, recognized by the fraternity on a national scale for our involvement. Members of Lambda Chi Alpha know how to keep busy and make a difference our campus and in the local community.
Lambda Chi Alpha Leadership
Cole Borden '24--President cgborden24@wabash.edu
Notable Alumni
Bill Cook '66, Distinguished Professor, State Univ. of New York
Frank Ling '70, President, Women's Health Specialists
Greg Castanias '87, Attorney and Partner, Jones Day
Mark Rutherford '82, Indiana Libertarian Party Chairman
Ted Grossnickle '73, Former President of Lambda Chi Alpha International