Student Life
Martindale Hall
Martindale Hall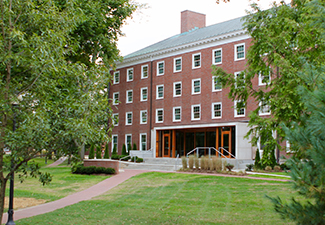 Martindale Hall is the largest living unit on campus and houses more than 100 men. It also has the greatest variety of rooms, including singles, doubles, and triples.
Martindale Hall is situated on the south edge of the Fuller Arboretum and next to Byron P. Hollett Little Giant Stadium and close to Baxter Hall.
The residence hall is named for Elijah Bishop Martindale, who graduated from Wabash in 1926 and was a Trustee from 1957 until his death in 1967.
An Indianapolis native and Shortridge High School graduate, Mr. Martindale was president of Van Camp Hardware and Iron Company and supported schools and cultural organizations. He also contributed to the building of Brebeuf Preparatory School in Indianapolis. While at Wabash, Mr. Martindale was a member of Sigma Chi.