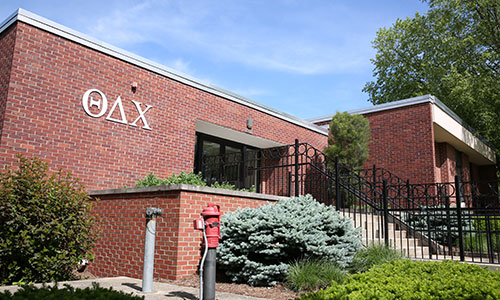 Theta Delta Chi — 607 S. Grant Ave.
Theta Delta Chi is a distinct and continuously growing house here at Wabash. The Theta Delts have recently moved into campus-owned housing, across the street from the Fine Arts Center. They boast a 24-hour kitchen, spacious rooms, and a communal living space. In addition to our new home, Theta Delta Chi is unique in its small size, meaning that all brothers can work together in a close-knit environment that forms lasting friendships and offers ample opportunities for personal and professional growth. All of these amenities add to the "feels like home" atmosphere in which Theta Delts take great pride.
A brother of Theta Delta Chi can expect to find many leadership opportunities in the close-knit group of men living both in and out of the house. Brothers are currently active in football, baseball, Alpha Phi Omega service fraternity, music ensembles, both Wabash College Democrats and Republicans, the Inter-Fraternity Council, golf, Student Senate, Glee Club, Sphinx Club, and various other organizations across campus. Even as freshmen, the brothers of Theta Delta Chi can expect to take on significant leadership roles in the house, such as treasurer, house manager, rush chairman, or recording secretary.
Though small in comparison, the brothers of Theta Delta Chi at Wabash win awards year after year at National Convention including the Theta Delta Chi Philanthropy and Campus Involvement awards. We are continually striving to better ourselves. Theta Delt is a place for leaders and achievers. It's not all business at the Theta Delt house, however; the brothers have a refinished pool table, ping-pong table, and a big screen TV that hosts Mario Kart and Super Smash Bro tournaments on the weekends. Stop by the house at any time to experience how being a brother at Theta Delta Chi enhances the liberal arts education at Wabash College.
Theta Delta Chi Leadership
Notable Alumni
Ryan Clougherty '02, Honors Attorney, FDIC
Jeffrey Nicoson '97, Cancer Research Department at Purdue University
Matt Swift '97, Anesthesiologist, Riverview Hospital
David Zimmerman '93, Oncologist, St. Louis University Hospital
Jon Larcomb '96, Attorney, JAG Corps
Todd Vogel '04, Neurosurgeon
See also: Wabash Theta Delta Chi