Sigma Chi — 701 West Wabash Avenue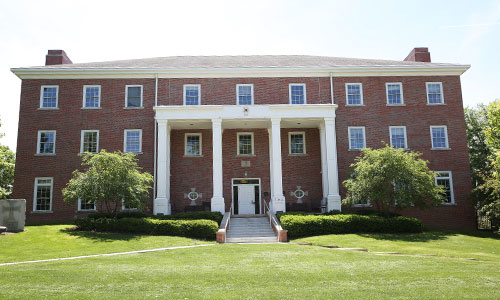 The Delta Chi Chapter of Sigma Chi was founded at Wabash in 1880 and has been active for over 125 years. Furthermore, the brothers are proud to play an integral role in Wabash's academic, athletic, and social/extra-curricular scenes.
We are involved in all academic fields at Wabash, while maintaining one of the top five GPA's each year. The Brothers serve as tutoring peers at the Quantitative Skills Center and the Writing Center. The Sigma Chi Fraternity currently has men competing in track, cross-country, football, baseball, and basketball, wrestling, rugby, swimming & diving. Within the last two years the house has seen numerous All-Conference athletes, team-captains, team MVPs, and even All-Americans. In addition, Sigs' dedication in IM sports is rarely contended with, having placed in the top three in almost every IM event annually.
The Brothers of the Sigma Chi fraternity are also involved in many social and extra-curricular aspects of the Wabash campus. Sigs are involved in the Student Senate, Glee Club, Brass Ensemble, Jazz Band, Sphinx Club, College Democrats, Alpha Phi Omega, Volleyball Club, Lacrosse Club, Biology Society, Sons of Wabash, Brewing Society, and many more. Sigma Chis are also involved in several volunteer activities including Habitat for Humanity, the Ben Hur Home, the Boys and Girls Club, the local animal shelter, and the Special Olympics.
Sigma Chi Leadership
Aidan Walker '25--President ajwalker25@wabash.edu
Notable Alumni
Peter Kennedy '68, Chairman & CEO, Eighteen Seventy Corp.
Fred Wilson '69, Retired Chairman & CEO, Saks Fifth Avenue Ent.
Chris Denari '83, TV Play-by-Play Voice of the Indiana Pacers
Bob Klee '79, Director of Human Resources, Eli Lilly & Co.
Tom Bambrey '68, Retired Dean of Students & Director of Athletics at Wabash College
Also, see: Sigma Chi at Wabash College