Beta Theta Pi — 513 West Wabash Avenue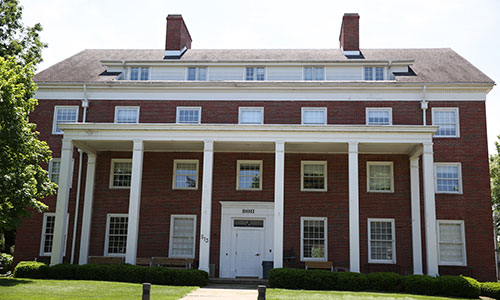 Beta Theta Pi, Wabash College's first fraternity, was founded in 1846 and has been a leader on campus ever since. We have one of the strongest alumni networks and were blessed with a complete renovation of our house in 2000. Currently, the Tau Chapter, one of the largest on campus, is fundraising as we speak for a complete renovation of several common areas in our house.
Beta has always been an academic leader at Wabash, consistently placing at the top of the campus in house GPA. In the fall of 2017, our freshman class attained the highest GPA among all housing organizations on campus and repeated the feat in 2019. Furthermore, in the previous two years, our chapter has been in the top two for the highest GPA among living units at Wabash College. In 2018-19, our chapter won the Sission Award, given by our national office that honors academics, support, chapter size, member education and retention, leadership development, chapter operations, and financial strength.
In addition, our house culture pushes every member to step out of their comfort zone to ensure each brother can achieve his goals. Thus, Betas can be found taking on leadership positions outside of the classroom. In the past five years, our chapter has produced one Student Body President, three Student Body Vice Presidents, one IFC President, and two Sphinx Club Presidents. We have multiple members in almost every campus organization that contributes to the Wabash community. For example, Betas are leaders in the TEDx program; Center for Innovation, Business and Entrepreneurship; and the Wabash Democracy and Public Discourse initiative. If you are wondering about our athleticism, Betas represent large numbers of the football and baseball teams, as well as the basketball, soccer, cross country, track, golf, and tennis squads.
At Beta, we expect our brothers to be involved on campus, to contribute to the community, and to share in the bonds that unite us. We hope that you will stop by our house on your visit to find out more. Come see if Beta is what you are looking for in a college experience. Please contact our Chapter President, Nicolas Caputo, if you have any questions!
Chapter Leadership
Notable Alumni
Jim Davlin '85, Vice-President Finance & Treasurer at General Motors.
Byron K. Trippet '30, 10th President of Wabash College
Steve Goldsmith '68, Former Indianapolis Mayor; Deputy Mayor of New York City
Richard Ristine '41, Former Indiana Lieutenant Governor
Also, see www.wabashbeta.com.