Student Life
Beta Theta Pi
Beta Theta Pi — 513 West Wabash Avenue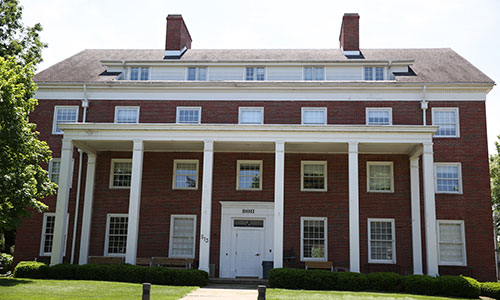 Beta Theta Pi was the first fraternity at Wabash College, founded in 1846, and has been a leader on campus ever since. We have one of the strongest alumni networks and were blessed with a complete renovation of our house in 2000.
Beta has always been an academic leader at Wabash, consistently placing at the top of the campus in house GPA. This past year our senior class achieved a perfect 11-for-11 on comprehensive exams, including a campus-high four distinctions awarded.
Betas can also be found outside of their class work taking on leadership positions. Betas are currently leaders in the Student Senate, College Republicans, College Democrats, the Inter-Fraternity Council, the History Society, the Business Club, the Rugby Club and numerous other clubs. We have members in almost every campus organization that contributes to the Wabash community. In addition, Betas can be found in almost every sport. Betas represent a large number of the football and baseball teams, as well as the basketball, soccer, cross country, track, golf, and tennis teams.
At the 2011 Beta General Convention, Tau Chapter won the Sisson Award for Chapter Excellence, Hardin Leadership Development Award, and Regional Virginia Tech GPA Award.
At Beta, we expect our brothers to be involved on campus, to contribute to the community, and to share in the bonds that tie us together. We hope that you will stop by our house on your visit to find out more about our brotherhood. Come see if Beta is what you are looking for in a college experience.
Beta Theta Pi Leadership
Patrick Kelly '21, — President (pakelly21@wabash.edu)
Notable Alumni
Jim Davlin '85, Vice-President Finance & Treasurer at General Motors.
Byron K. Trippet '30, 10th President of Wabash College
Steve Goldsmith '68, Former Indianapolis Mayor; Deputy Mayor of New York City
Richard Ristine '41, Former Indiana Lieutenant Governor