Morris Hall and Wolcott Hall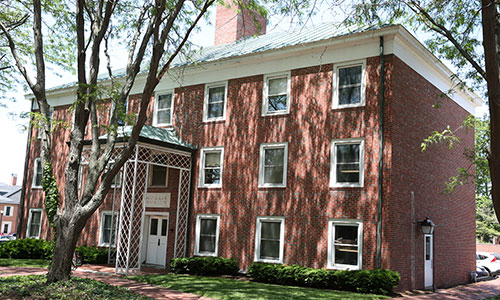 Morris and Wolcott halls are located directly west of the Sparks Student Center very close to the Malcolm X Institute and the Allen Athletics and Recreation Center. The two residence halls, which face each other across a gorgeous courtyard, each house 34 men. All of the rooms in both halls feature single-man rooms with adjoining bathrooms for every two rooms.
Morris Hall is named in memory of Ernest M. Morris, who was not an alumnus of the College, but had a special interest in the College because of President Sparks' innovative Institute for Personal Development — an executive training program. A South Bend businessman and philanthropist, Mr. Morris began a dormitory fund during his lifetime, and upon his death, his widow and business associates donated funds to construct Morris Hall. Mr. Morris founded First Bank & Trust and Associates Investment Company in South Bend.
Wolcott Hall is named in memory of Roger Gould Wolcott, Wabash Class of 1915. He's a great story — born in Wolcott, Indiana, a town founded by his grandfather. He and his brother Ryland (Class of 1912] followed in their father Eben to Wabash. Eben Wolcott was a member of the Class of 1896 and served for 36 years on the Wabash Board of Trustees. Roger, too, was a Trustee ­— serving from 1953 until his death in 1958. As an undergraduate, Roger was a member of the Fiji house, ran track, and was manager of the Glee Club — booking travel and arranging rehearsals and performances. Later, Roger was one of the first U.S. Army pilots to fly in France. He continued his love of speed after his service in the army as an owner-competitor in the Indianapolis 500 for more than a decade. He was also a generous donor to the Herron School of Art in Indianapolis.