Phi Delta Theta continues its more than century-and-a-half tradition at Wabash College by maintaining a chapter house of approximately 47-52 brothers in any given year. Our current goal is to rush a pledge class of a maximum 22 new members for the fall semester of the 2017-2018 school year.
If you are considering attending Wabash College and are interested in joining a rewarding brotherhood known for hospitality and camaraderie, please fill out our online rush form. Please don't hesitate to direct any questions about Wabash, Greek life, or about Phi Delta Theta to the Rush Chairs or Chapter President.
Why Go Greek?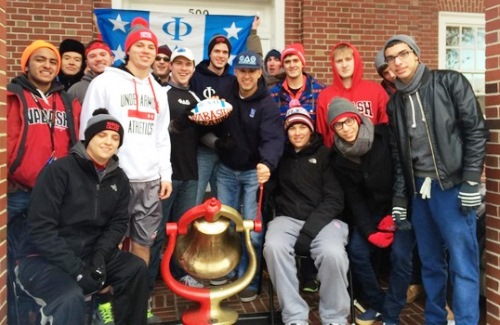 The nine fraternities at Wabash College each offer more than just a common brotherhood. They provide unmatched support for academic study, leadership development and opportunities, and a strong network to an international network of brothers. These fraternities provide…
a home during your college career
a system of academic and personal support to assist your transition to the rigors of a Wabash education
access to an additional network of business professionals that's 10 times the size of the Wabash alumni base alone
opportunities for you to interact with and lead your peers
the development of skills that are crucial to your future career
the development of lifelong, character-shaping friendships within a community of men that requires accountability in a challenging yet enjoyable environment
Nationwide, Greek organization members have a higher graduation rate: 71% of Greek students graduate, nearly 20% more than their non-Greek counterparts. A study by the Center for the Study of College Fraternities found that fraternity and sorority members were significantly more satisfied with their college experience than non-members.
When you begin exploring Greek life at Wabash, you'll soon find that each house has its own unique characteristics. We encourage you to visit the different houses, meet the brothers, and ask good questions about their experience. To learn more, download Greek Life at Wabash College: a Guide for Students and Parents here.
Phi Delta Theta: Raising the Bar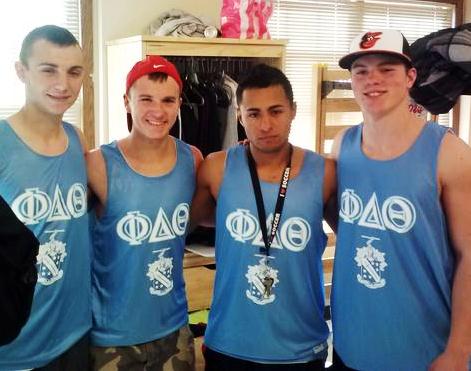 In addition to upholding the three cardinal principles of Phi Delta Theta and the Gentleman's Rule of Wabash College, our chapter upholds the characteristics of determination, loyalty, and pride.
At Phi Delta Theta, we're reinventing pledge education with a revolutionary Leadership Development Program for freshman members based on corporate principles and distinct from any other fraternity at Wabash.
Extensive alumni support involves the paring of an alumni mentor with every member of the chapter who provides guidance throughout your college career and beyond graduation.
We're honing a renewed focus on scholarship and campus involvement including varsity and intramural athletics, student government, and various clubs and activities.
Consider these other factors of Wabash Phi Delts:
Our Tight Brotherhood
We boast the most diverse house in our history (with regard to race, geography, athletic and academic interests).
At the same time, we have high respect and support for each other and the aspects that bind us as Brothers.
Priorities
We encourage athletics, academics, and campus involvement as important facets of the unique Wabash experience.
We believe very strongly that our members make our chapter stronger when they prioritize their attentions by taking care of academic concerns first, extracurricular and athletic pursuits second, and fraternity commitments third.
A Strong Sense of Tradition
We exhibit unwavering support for Wabash by continuing its traditions and the values that they teach.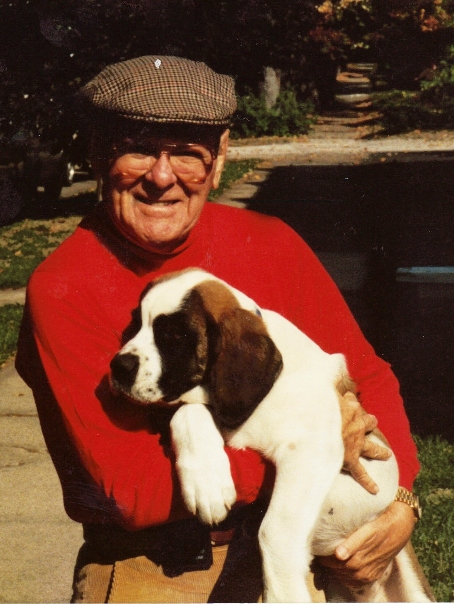 Our Proud History
At 166 years, the Indiana Beta chapter at Wabash is the longest, continuous chapter in the history of Phi Delta Theta.
Pledges and brothers learn about the strong links to our chapter's past and strive to uphold them.
Selfless Leadership
Eight Phi Delts serve on the Wabash Board of Trustees.
Brother Allan Anderson '65 served as co-chair for the College's most recent capital campaign, the Challenge for Excellence with Brothers Dave Orr '57 and Mike Dill '71.
Mike Dill '71 created the Dill Fund which provides funds for students to explore off-campus opportunities outside of the normal academic year.
Five Phi Delts serve on the board of the National Association of Wabash Men.
Five Phi Delts currently serve on the board of the Indianapolis Association of Wabash Men, one serves as the organization's current president, and two are past presidents.
Generous Alumni
During the College's Campaign for Leadership, more than half of our alumni (more than 360) contributed to the building of our new house.
Our alumni do not hesitate to offer support and advice for their undergraduate brothers seeking careers or internships.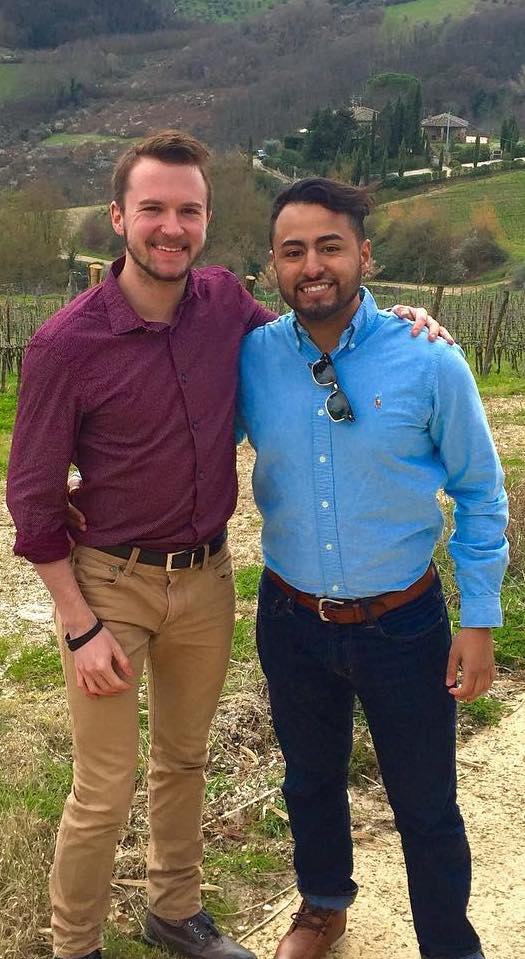 NOTE: Want to know what being a Wabash Phi Delt means to those who've been in the house? Check out our Why I'm a Phi profiles here. You'll find testimonials from alumni and current brothers about how much they value their experiences in our house.
Focused Academics
Our new house includes a quiet study space in the basement.
Freshmen attend supervised study tables from Sunday to Thursday nights.
Pledge Fathers serve as academic mentors for freshmen as they adjust to Wabash's rigorous academics.
While our academic program stresses personal responsibility, brothers do not hesitate to help and encourage those of us when we struggle with classes.
This year's freshman class was third on campus in scholastic achievement last semester.
Community Service
In addition to campus involvement (below), we regularly participate in activities to benefit the Crawfordsville community.
The Monon Bell Game Ball Relay for ALS has raised $19,000 for Lou Gehrig's Disease over the past three years.
Competitive Costs
We're cheaper than living in the dorms, and we have our own kitchen and laundry facilities.
We manage our house budget with the help of an outside accountant and an alumni mentor.
Involvement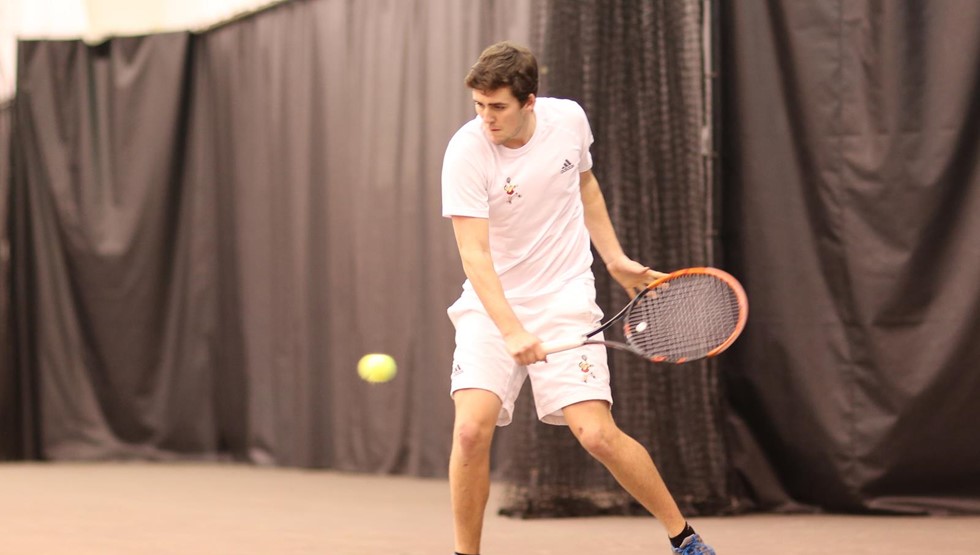 Indiana Beta has the following active athletes:
Phi Delts are also active in many other campus activities and programs:
Sphinx Club: Ephrem Chedid '18, Byran Roberts '18, Nick Pollock '18, Trevor Hix '19
Study Abroad Program: Dugan Polizotto '17, Chris Roman '18, John Rodriguez '18, Chase Crowe '18
APO: Josh Derse '18, German Cruz '18, Zach Havlin '19, Trevor Hix '19, Matt Jackson '19, Jimmy Eaton '19, Ian Songer '19