Rush 2013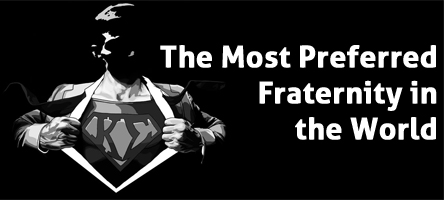 Alpha Pi Chapter is doing rush during Honor Scholar Weekend, March 15th and 16th. We are working towards a pledge class of 16-20 people for the Fall of 2013.
For more Information, please contact our Rush Chair:
Max Gallivan '16 (219-246-7769 or lmgalliv16@wabash.edu)
Definitions of Rush terms:
Rush- The period when fraternitites actively recruit proir to pledging.
Bid- A formal invitation to pledge a fraternity.
Pledge- Pledgeship in Kappa Sigma lasts approximately a semester. It offers each person the chance to understand Kappa Sigma and its ideals.
Greek- A collective term used to describe members of fraternities or sororities.
Why pledge a fraternity at all?
Since the founding of the American College Fraternity movement in 1776, fraternities have grown to symbolize leardership, independence, scholastic achievement and service
Why Join Alpha-Pi of Kappa Sigma?
Approximately 50% of all Wabash College men are members of a fraternity. The Alpha-Pi Chapter on campus will enhance the rich Wabash experiences that abound every year. Some events include Monon Bell and Homecoming. The Alpha-Pi chapter will help you understand and achieve the ideals of Kappa Sigma. Moreover, there is an unmatched sense of camaraderie and brotherhood present in our brothers.
Notable Alumni of Alpha-Pi:
David Kendall -- Lawyer for President Clinton
Dwight Green -- Past Governor of Illinois
Tom Fisher -- Solicitor General of Indiana