Wabash College offers a generous benefits package to employees, including paid vacation and holidays; health, life, dental, and vision insurance; 403 (b) retirement fund contributions; employee and dependent tuition assistance program(s), and medical and childcare flexible benefits plans (section 125, cafeteria plan). For summary information on Wabash employee benefits, please look through the provided 2023 Employee Benefits Guide.
In addition, the Wabash College Office of Human Resources offers the following summary of benefits across our website.
Retirement
A supplemental retirement plan allows you to use either post-tax or pre-tax retirement contributions to save for retirement. Pre-tax contributions will reduce your federal income taxes now. Post-tax contributions may help you avoid paying higher taxes on your retirement savings in the future.
Health Insurance
Wabash College provides health insurance coverage through United Health Care (UMR). The College offers a Traditional Health Plan and a High Deductible Health Plan with an Health Savings Account option. Summary of Benefits and Coverage documents will help you choose a health plan.
Dental and Vision Insurance
Dental insurance is offered to Wabash employees on a voluntary basis through Lincoln Financial Group, as well as a chance to enroll in vision insurance with Vision Service Plan (VSP). Please find a highlight sheet and enrollment form below. You can find out more about the plan by visiting www.vsp.com
Flexible Spending and Health Savings Accounts
Employee Benefits Corporation is our third-party administrator for our Medical Flexible Spending Account (MFSA); Dependent Care Flexible Spending Account (DFSA); Limited Flexible Spending Account (LFSA) and Health Savings accounts. Read in greater detail about these accounts and their differences.
Tuition Remission
Wabash College offers 16 semesters of dependent tuition assistance to all eligible full-time employees, including tuition remission for male dependents attending Wabash College, tuition exchange for schools in the Great Lakes Colleges Association (GLCA) and other colleges, or a tuition reimbursement benefit for all other accredited institutions of higher learning.
CONTACTS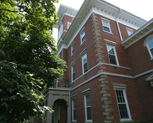 Cathy Metz
Director of Human Resources
765.361.6418
metzc@wabash.edu