Human Resources
Flexible Benefits Plan
Wabash College offers a self-administered Flexible Benefits and Cafeteria Plan (Section 125). This program allows employees to withhold Medical and Dental premiums on a pre-tax basis (section 125) and to set aside pre-tax dollars for childcare and medical, dental, vision, as well as, eligible over the counter medications expenses. Please see links below for the appropriate claim form, enrollment form and WH-10 (required for all Child Care Providers) form.
A little more about Medical and Dependent Care Accounts
Only employees participating in the plan can submit claims for reimbursement.
Participants can submit claims at any time during the current claim period (the plan year or period designated in the employer's Plan Document and/or Summary Plan Description) and for a specified period after the claim period (called the "Run-Out Period") as defined by the employer's Summary Plan Description (SPD).
All expenses must be incurred during the plan year to be eligible for reimbursement. Balances on the account after the year has ended up to $500 can be carried forward to the next plan year. Any amount in excess of $500 cannot be carried forward or returned; nor can any unused funds in an account be used for expenses eligible for reimbursement in another account.
Terminated employees can submit claims for a specified period after the date of termination (if so stated in the SPD), as long as the claim date of service occurred prior to the termination date and while the employee was a participant in the plan.
Participants cannot receive payment from any other source for expenses reimbursed by the plan, and must certify (by signing the claim voucher) that they are not eligible to bill any other source for the expense submitted.
Expenses reimbursed by the plan cannot be claimed for income tax purposes.
Recurring expenses or expenses from service dates spanning two plan years cannot be submitted on one claim form. Recurring expenses must be submitted and reimbursed as they occur, and services spanning two plan years must be split and submitted separately (in each claim period).
Documentation of expenses submitted for reimbursement must accompany the claim form and include the following information:
Provider name and address
Patient/Dependent name
Date of service
Description of service
Amount charged
NOTE: a "paid receipt" or credit card receipt is not proper documentation. However, a pharmacy receipt that lists clearly what is purchased is acceptable.
CONTACTS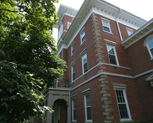 Cathy Metz
Director of Human Resources
765.361.6418
metzc@wabash.edu